Los Angeles-based artist Alex Israel has created a site-specific installation for the seventh summer exhibition at MAMO Arts Center, located on the rooftop of Le Corbusier's Cité Radieuse in Marseille.
RELATED: ART
Californian Artist, inspired by Tim Burton's Academy Award winning 1989 Batman, has re-imagined the rooftop pavilion and deck of the Cité Radieuse as Gotham.
Israel's exhibition takes as its starting point Tim Burton's 1989 film, Batman — which became upon its release the fifth most successful Hollywood film of all time. It not only spawned sequels, an animated spin-off series for TV, and extensive lines of branded merchandise, it also rebooted the comic book superhero as prime content for the silver screen, reigniting the craze for a genre that continues to dominate the global box office today.
The success of Batman was in no small part indebted to its powerful Academy Award winning production design, by Anton Furst. Among the film's most memorable "hero" props were a reimagined, torpedo-shaped Batmobile, and the Gotham City Police Department's Bat Signal, which was fashioned for the film from a World War II era spotlight to project the bat logo into the foggy Gotham sky. – from the artist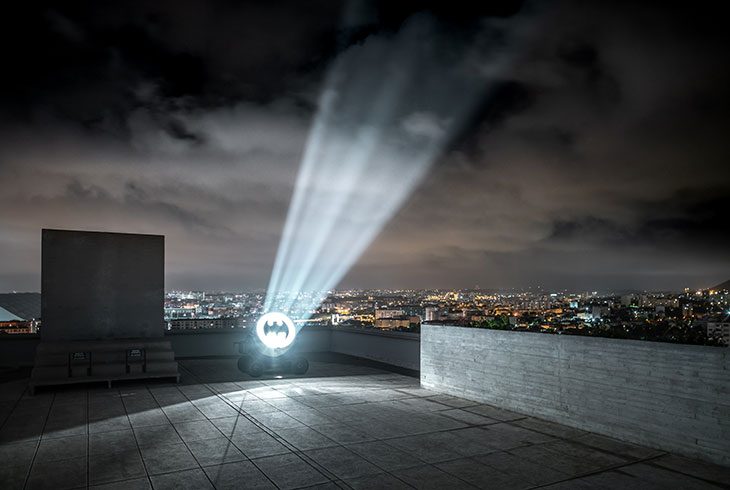 The exhibition is open until August 31, 2019.