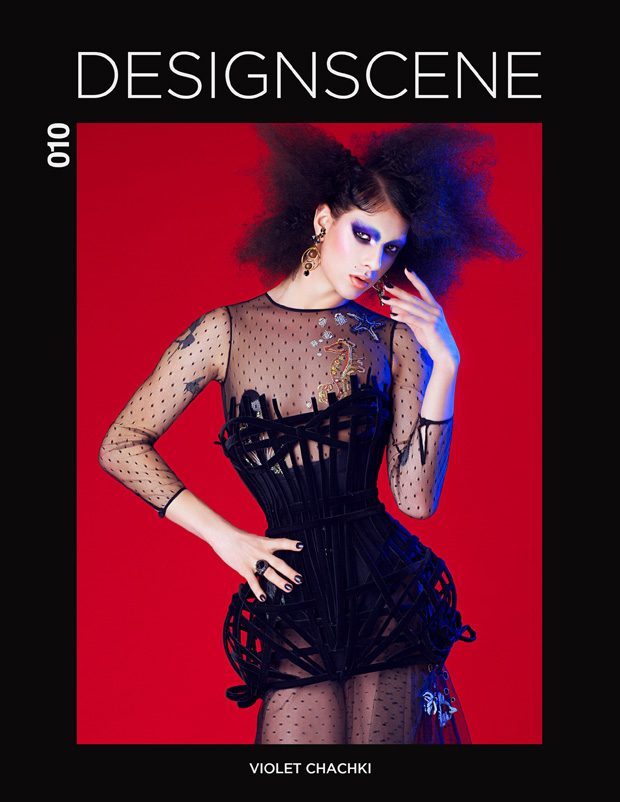 DESIGN SCENE magazine's contributing writer MATTI BYGOD sits down for an interview with our cover star VIOLET CHACHKI to talk drag career, sexuality and that famous Drag Race Season 8 finale look. 
For the cover Violet wears VALENTINO RED Fall Winter 2016 dress.
Perhaps the most well known decorative figurine in pop culture is Drag Queen and fashion maven Violet Chachki. Winning season seven of RuPaul's Drag Race launched her into the zeitgeist and more importantly into stardom. Violet has appeared in countless photo shoots, beauty blogs and even has a makeup tutorial for fans inspired to adopt her iconic look . In 2015 after being crowned the winner she released two singles Bettie and Vanguard from her titled album Gagged.
I think what makes drag so intriguing is the lack of limitations Queens or Kings have creatively. The freedom to be whomever you want and look however you want. Some artists impersonate famous figures and some like Violet create their own personas. The diversity in looks and personalities drag is attracting keeps it fresh and always evolving. Drag Race has snowballed over the course of 8 seasons gaining more viewers and pushing into mainstream popular culture.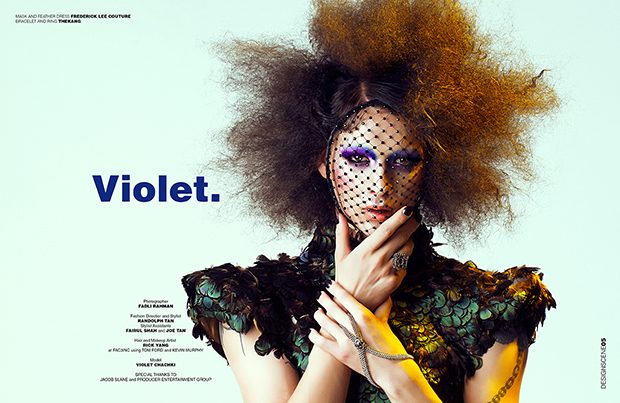 Violet Chachki is the living embodiment of a 1950's female archetype often touring the world with or without fellow drag race alumni so I was excited to get a chance to track her down and learn more about what she does and how she does it.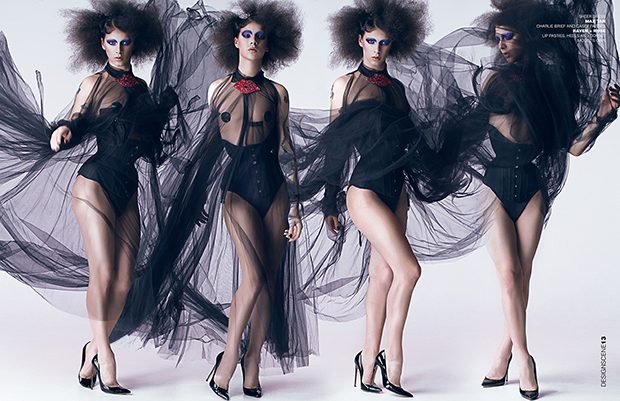 What inspired you to explore a career in drag?
I think what's always really inspired me is women's clothing. I think I've always just loved beautiful clothing… like I would always put on my mom's clothing… I just really love clothing, I just love glamour, becoming an image you have in your mind in reality. It's really powerful, it's the most creative thing you can possibly do is to create a character and a persona and that's what I like, I like being creative. I think it's like giving birth to a child almost.
What age did you start doing drag?
I think I was always playing dress up in women's clothing but I think the first time I really got in drag was age seventeen. I was Mary Kate Olsen for Halloween, that's when I went out of the house in drag to start.
Who were your role models growing up?
My role models growing up? I dunno I've always really liked designers and models and fashion icons I guess…Dita Von Teese, Lady Miss Kier,Thierry Mugler and John Galliano. I've always kind of looked up to creative people like that.
Did they influence your style?
Absolutely! I think I grew up in a really great time because the internet was just kind of happening and there's all this information that you could readily see and see all these references and images of things that could just inspire you…so it was really cool growing up when I did and having all that information readily available.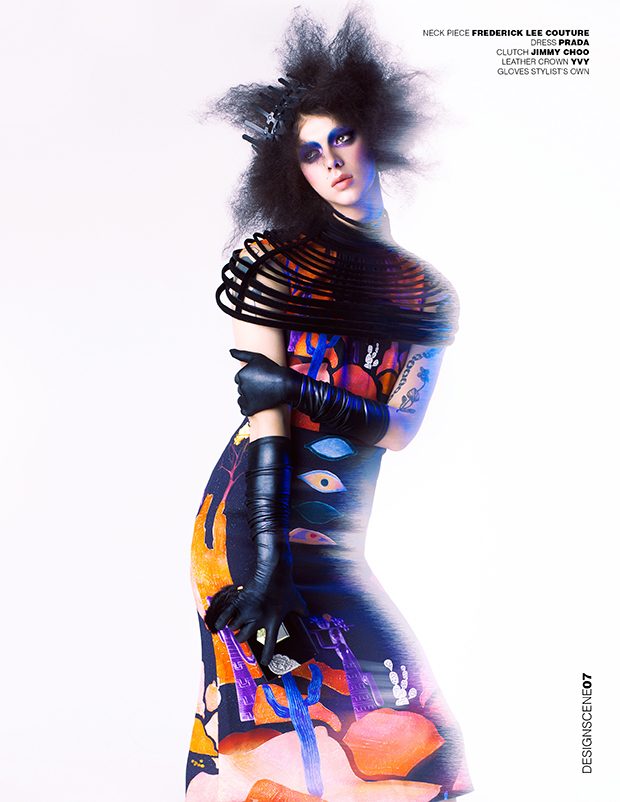 What is the first thing you think about when designing a look?
I think something has to inspire me physically. I need to find something and touch something, maybe I'll find a garment I really like or I'll see something in a magazine…so I need to see or touch something and it kind of evolves from there. Moods also, you could be inspired by a mood or a feeling, it could be anything. I have catalogues of screenshots and images that I always reference in my phone and just things I kinda want to do coming up. I have tones of screen shots of things or I'll like stuff on Instagram or go through my likes on Instagram and find this one picture of something I like from forever ago and just kinda play off that.
Do you design your looks on your own or are you working with a team now?
I have a great team that I work with, my corset maker House of Canney. I kind of design my looks then I'll have him create them. I'm very hands on like this is working or this is not working, change this fix this…so I kind of think of him as my own personal designer.
If you could collaborate with anyone who would it be and why?
Oh gosh there are so many people I want to collaborate with. Um I dunno I think I would love to…I mean I've already gotten to collaborate with a lot of cool people…Um I want to work with Dita Von Teese at some point. She's a really sweet person, so inspiring, we talk sometimes here and there so I'm sure that's going to happen at some point. I would really love to work with John Galliano or just be able to see the Dior archives, that would me amazing! Who else do I just love? I dunno there's so many, tonnes of photographers, models…there's a lot of people I want to work with.
Latex and bondage seem to be staples in your mid century inspired looks, are these personal fetishes or strictly aesthetic decisions?
I think it's a little bit of both. I think drag in itself is kind of a fetish, it's kind of uncomfortable and I think bondage and latex are uncomfortable and they have that same feel…I think especially when you're really feeling it and feeling your look and you're willing to suffer through the pain to kind of present yourself the way you want to present…I think that's kind of a fetish. I think it's exhibitionism almost.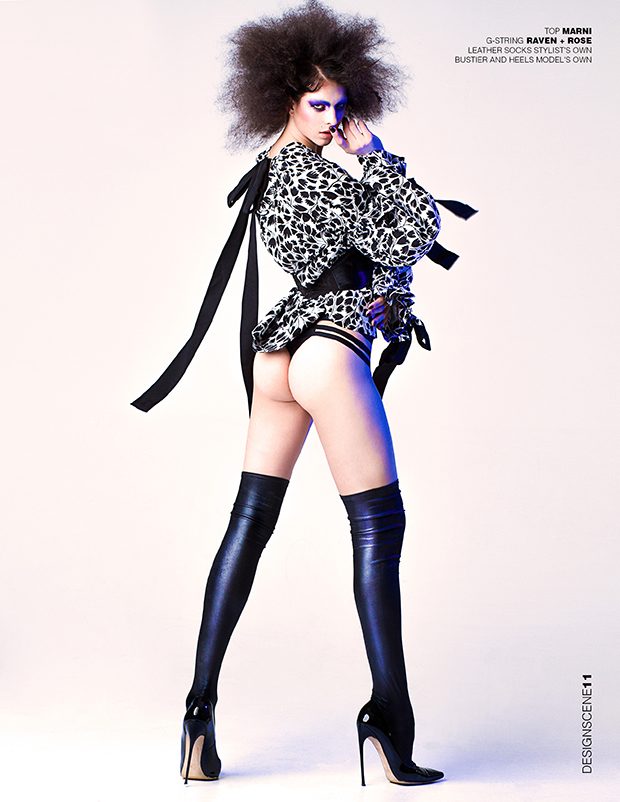 Do you find it easier to express your sexuality as Violet?
I think it's pretty fluid sexually for me as far as gender is concerned. It's a lot more fun in drag, yeah it's a lot more fun when you're dressed up. I love fantasy and I like glamour and I think it a lot more fun to kind of live that fantasy in drag..they're both great."
What music are you listening to?
Right now I'm really into Grimes…who else do I like right now? FKA Twigs, I like the Presets…those are a couple I'm listening to recently.
Do you have any pre-show regiments or routines?
Usually if I get the chance I like to just get ready by myself in my room, in my hotel room with music on and little snacks. I'll get champagne sometimes in my hotel room. I think it should be a relaxing experience like a ritual almost. Recently I haven't been able to do that it's kind of been rushed. On tour it's really different, when you tour along you kind of get to do whatever you want and experience it however you want but when you tour with a bunch of people it's like go go go all the time.

Your season 8 finale look for Rupaul's Drag race was arguably the most stunning look any queen has worn on that stage, tell me about that look and what inspired it?
I think the inspiration for that look is I just wanted to look really dark and villainous but I also wanted to look like royalty I think like I'm giving up my crown but it also feels like I'm not at the same time so I kind of wanted to play on that idea of like and eternal queen or kind of being villainous in a kind of omnipresent way so I wanted to look severe and I think I was getting inspiration for Disney villains. I was also looking at Zac Posen and Charles James and looking at different kinds of interesting shapes. I wanted to do a ball gown silhouette because I was doing a mermaid silhouette last year. I wanted Jewel tones and royal tones and I also wanted to do sequin because it shows better on camera. I have an amazing team and they inspire me as well so it was a really collective project. It's a good opportunity to get to showcase something. I was brainstorming and designing it for maybe a month and then it took about two weeks to kind of put it all together.
That's quick!
It was a really great turn around, I've got a really amazing team of people The House of Canney, Gage Munster and Nova Starr did the jewelry. I think I wanted to do a jet AV so it's dark but still has an iridescent light moment to it, so you get the sort of dark and light playing together. It's a good combination."
Drag is making large strides in pop culture do you feel pressured to take bigger risks with your show or your image?
Yeah! I definitely think that since drag is becoming a lot more mainstream, more omnipresent in pop culture I think it's important to kind of look at what's going on, look at what's popular and who's doing what and keep pushing the boundaries. I think even just hair or makeup, performance or wardrobe I think it's important to stay on top of your game. There are so many drag queens now, there's tones of drag queens. It's important to stand out and know what your niche is and what inspires you and what your aesthetic is and keep pushing that boundary and inspire other people… you know?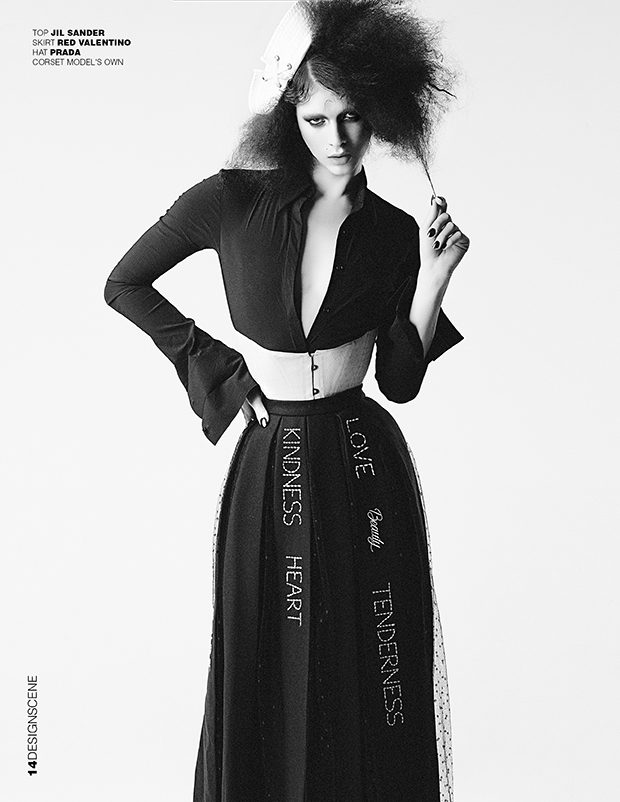 Where would you like to direct your career in the future?
I think in the future I want to move to behind the scenes stuff. I really love creative directing and designing and all those elements to drag. I think once I get too old for it I want to move to a behind the scenes kind of aspect… be in control of someone else's image.
How would you describe your personal style outside of your Violet persona?
I think my personal style outside of Violet is pretty relaxed, especially on tour it's very comfortable but when I go out, outside of drag I like to do androgynous stuff, I kind of like to do vintage throwback stuff, sometimes I'll put my hair in a pompadour or I'll do kind of a twinky Tom of Finland, androgynous gender fluid kind of thing.
Any Style Icons?
Yes definitely! My style definitely comes from people that inspire me, Lady Miss Kier, Dovima the model from the 50's, Bettie Page, Dita Von Teese and Raquel Welch..anyone that's been glamorous yeah.

Do you have any favourite supermodels?
Ummm right now, not really to be honest…I love Ana Cleveland, she's amazing I got to work with her recently, super sweet. I think the models these days are more about selling products and less about how you actually look, so it's weird. I think the fashion industry is no longer about the way you look and carry yourself. It's about how many Instagram followers you have. It's about the numbers and money and it makes sense, that's where fashion is going and that's where it's gone and it's no longer about the artistry I think anymore…it can be but I think mainstream fashion is no longer about artistry and beauty. I think it's about numbers and money, which is cool? I dunno I respect models from the 90's and even before that. Twiggy, Dovima, Naomi Campbell and the legends really. Nowadays it really is about who are your parents, how rich are you… Instagram models… which is fine it's where everything is going these days.
What advice do you have for anyone wanting to get into drag?
Start. I say if you want to get into drag you have to do it yesterday…like you need to start immediately. If you want to do something you have to just do it. I don't really have advice, you just have to figure it out, that's my advice just do it. There's no way you can just start and be put together, there's no way. You can try and prepare all you want but you're going to look busted for like the first year or two.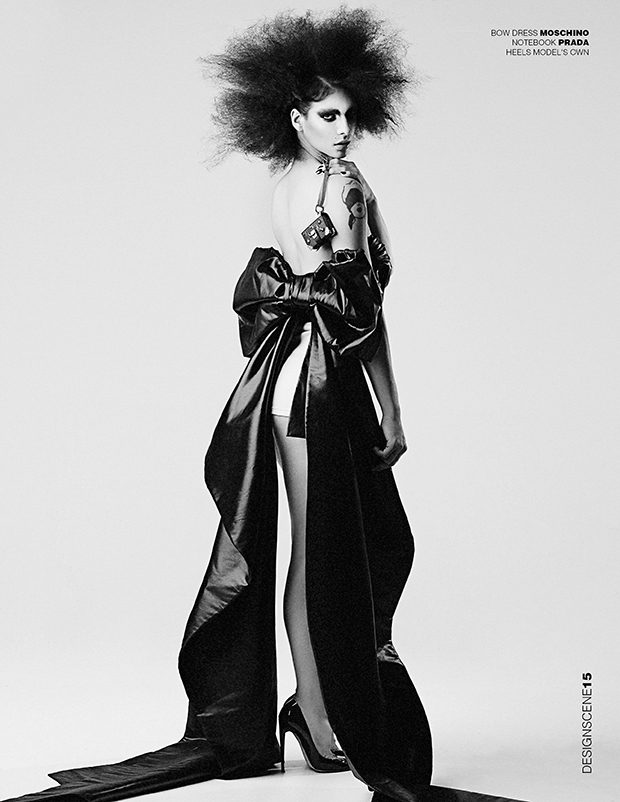 What trends are you sick of seeing?
I dunno. I think I'm sick of nude lips really…but we're doing a nude lip today. I think on drag queens it's hard if you're lip-syncing on stage no one can see your lips. What other trends? I dunno I think platform shoes are gone, nobody wears platforms anymore. I think skinny jeans are on their way out, ombre hair is on its way out…what else?
Ha ha maybe I shouldn't have asked this question before shooting…
Ha ha no I just did a nude lip but I think it's mainly just for on stage with drag queens you need somewhat of a lip liner on. I think I'm mostly sick of seeing everyone look the same. Everyone almost looks like Kim Kardashian now. I'll be looking through Instagram and I'll be like oh there's Kim Kardashian..oh wait that's not her. It's just someone that looks just like her. It's that look, that middle parted wavy hair. It's kind of ombre, black eye makeup, you're contoured and highlighted, you have like a nude bronzy lip and you're wearing beiges and tan. Its very like all the same and I think I'd like to see more individuality.
What trends are you loving right now?
I think the eighties are making a comeback. Marc Jacobs collection recently was very eighties inspired. Lanvin last season was very eighties. I love that. I really like the glamorous moments of the eighties, the Patrick Nigel and Thierry Mugler, all the angles shapes and lines. That's a really fun glamour moment happening there. That's what I'm seeing at least.
How has your success changed your life?
It's made my life look like what I think it's supposed to look like. I dunno I think this is where I'm supposed to be so I think it's interesting to think that it'd be anywhere else. Everything kinda happens for a reason.
Did you expect this to happen to you?
Yeah I kind of just made it happen and kind of just like with drag you just have to make it happen. Visualize how you like your life to look and make it…make it happen.
Did you know you were going to win Drag Race?
Yeah I think I manifested that, I was really determined to win and to be successful. It's stressful and it's hard, it's like the hardest thing I've ever done but it feels so great to accomplish something, you know…it was so hard!
Maybe we should have discussed the nude lipstick beforehand but it's that spur of the moment honesty is what fans enjoy about Violet. She didn't make a name for herself shying away from saying what she thinks and she had everyone on set cracking up. It's in those moments you experience the candor and authenticity that got Violet to where she is now.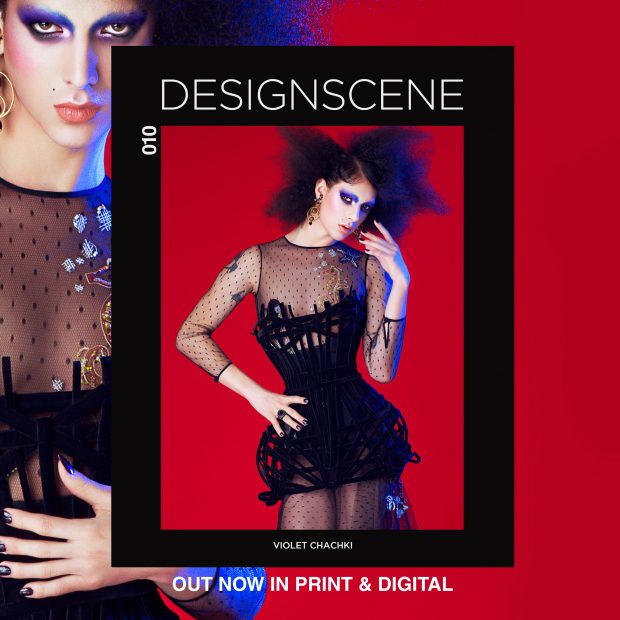 Photography by FADLI RAHMAN –  fadlirahman.com
Fashion Direction and Styling RANDOLPH TAN – www.randolphtan.com
Stylist Assistant Fairul Shah and Joe Tan
Hair and Makeup RICK YANG (FAC3INC) using TOM FORD and KEVIN MURPHY
SPECIAL THANKS TO JACOB SLANE and PRODUCER ENTERTAINMENT GROUP
Words and interview by MATTI BYGOD @mattibygod
Keep up with Violet on her Instagram page @violetchachki