Fashion brand Moncler celebrates its heritage with the Icons, the Innovations, the Hardware and the Eyewear exclusive capsule collections made in collaboration with the most avant-garde names in fashion. All capsule collections explore and reinterpret Moncler's heritage designs through each designer's individual lenses.
"THE ICONS – The core Moncler collection of outerwear for women and men forges a seamless link between city and mountain for a timeless duality of pragmatism and enduring style. Built on the codes set down through Moncler's mid-century beginnings – carefully honed for mountaineering expeditions and the Winter Olympics – each key style draws upon a unique combination of historical details and technical developments ensuring a balance of sleek modernity with a hint of nostalgia.
THE INNOVATIONS – Itself a house icon, Moncler's laqué nylon takes centre stage in the construction of each piece, lending its high gloss finish to long and short styles such as the Gaou and Hanoverian jackets or Ghany vest that feature tone-on-tone details that pop in seasonal colours from cobalt blue to olive, cherry red, metallic silver and gold. Other technical fabrics offer a softer hand; premium high-density ripstop nylon lends a matte finish to the hooded men's Lamentin jacket, micro corduroy imbues the Vignemale with a rich velvet touch, and a water-repellent, ultra-light cotton in natural tones aligns the long Roubaud coat with the subtle padded softness of the very first Moncler designs.
THE HARDWARE – The custom hardware and construction of all Moncler outerwear designs epitomizes the marriage of constant innovation and historical touchpoints that make each piece a modern classic. From detachable hoods to double debossed snap-stud plackets, two-way diecast zippers and moulded logo toggles, each jacket is a 360° study in practicality and style for the slopes and the streets alike. Discreet adjustable cuffs and chin guards keep the weather out, and convenient, secure pockets keep your valuables safely in.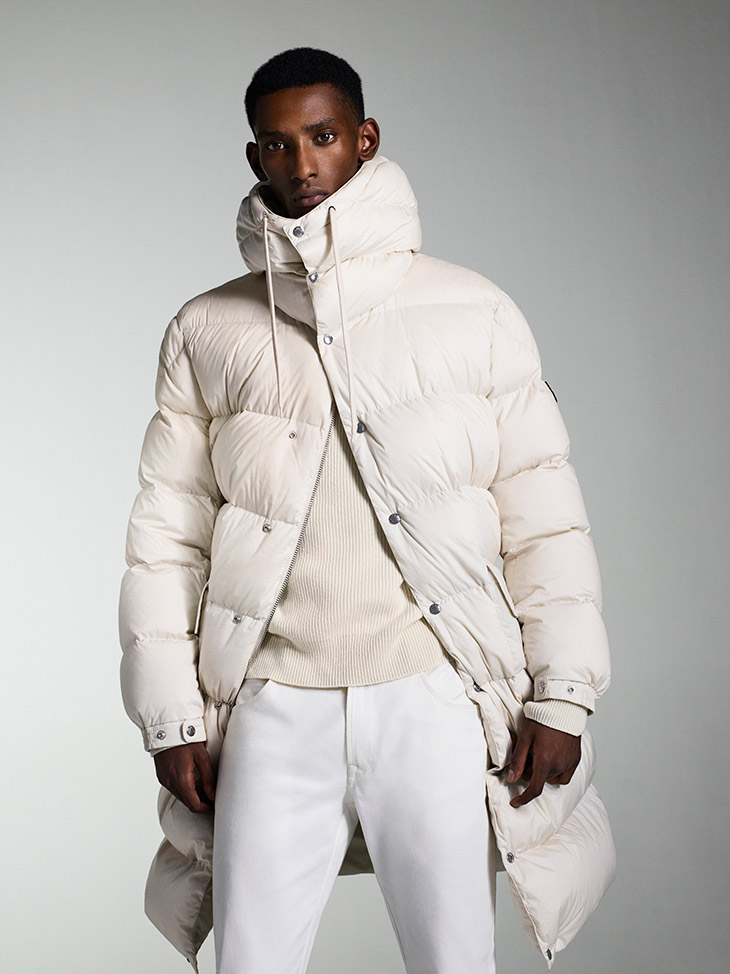 THE EYEWEAR – Streamlining the functionality of traditional mountaineering gear, the Moncler Lunettes collection boasts a distinctly cosmopolitan flair combined with the latest technology and hardwearing Moncler durability. Inspired by the lines of a scuba mask, the latest Moncler Lunettes eyewear styles for 2020 are constructed in a wraparound style with a lightweight, ultra-protective design featuring Zeiss lenses in a range of tonal lens and frame combinations. Each colourway is adorned with the rotated Moncler logo patch on the left temple. Composed of a stylised letter 'M' in the shape of a mountain range and a cockerel–a symbol of the house's French beginnings–the Moncler logo is a symbol of outdoor excellence recognised the world over." – from Moncler