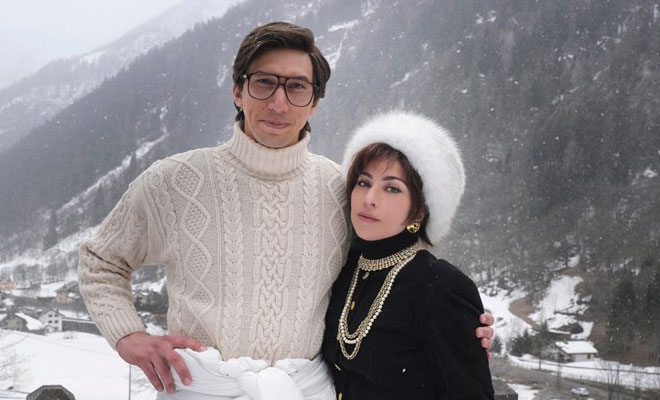 Lady Gaga has shared a first look at Ridley Scott's upcoming biographical crime movie House of Gucci, posing with a co-star Adam Driver. Gaga is starring as Patrizia Reggiani, the wife of murdered Gucci head Maurizio Gucci (played by Driver), who was tried and convicted of orchestrating the assassination of her ex-husband.
The film is based on the 2001 book The House of Gucci: A Sensational Story of Murder, Madness, Glamour, and Greed by Sara Gay Forden. It stars Lady Gaga and Adam Driver in leading roles, as well as Al Pacino, Jared Leto, Jack Huston, Reeve Carney and Jeremy Irons.
The film is scheduled to be released in the United States on November 24, 2021, by Metro-Goldwyn-Mayer.
View this post on Instagram
Patrizia Reggiani was arrested in 1997, and in 1998 she was convicted of arranging the murder of her ex husband, Maurizio Gucci, and sentenced to 29 years in prison. Reggiani became known as the "Black Widow" in the media, and the killing gained a huge interest. Her daughters asked that her conviction be overturned, claiming her brain tumor had affected her personality. In 2000, an appeals court in Milan upheld the conviction and reduced the sentence to 26 years. That same year, Reggiani tried to commit suicide by hanging herself with a shoelace, but was rescued.