Innovation and fashion are part and parcel. Therefore, the industry can predict trends and cultural changes before they become the norm, such as androgynous fashion or consumer behavior.
As the world has changed so much in the last ten years, from technology through to gender norms, the fashion world will undoubtedly shift, too. Continue reading to learn more about the future of the fashion industry.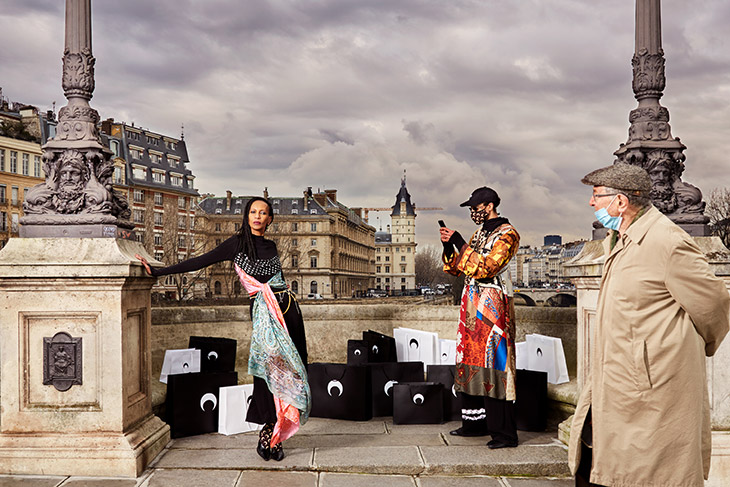 Sustainable & Responsible Clothing
David Attenborough's Breaking Boundaries shined a spotlight on the importance of living a more sustainable life. As various industries are responsible for climate change, many will need to alter their tactics to run a more environmentally friendly organization, and the fashion sector is no exception.
It is likely more consumers will look to buy clothing from sustainable fashion brands. If an empire wants to secure young customers, it will need to reduce its carbon footprint, decrease mass production, and introduce more trans-seasonal pieces.
Irish fashion designer Richard Malone, for example,  has chosen to work outside of the old-school fashion system. Known for his approach to sustainable fashion, Malone believes that dialogue, education, and access are keys to his success. Sustainable fashion was barely a thing when I established my brand. It's been really hard graft to prove that sustainable or ethical fashion can be desirable, bold, brilliant, important to customers, etc. – he said exclusively for DSCENE Love Issue. I feel it's important to pass on my knowledge, share research, be transparent and open with how we work and how things are made. – he added.
In the last few years, interest in sustainable fashion is constantly growing, and more and more attention is paid to the impact on the environment and the value chain of fashion companies.
Genderless Fashion
While sustainability will be at the forefront of many fashion brands' minds, genderless fashion will likely become a primary focus, too. Gender identity has become a huge talking point in society in recent years. The likes of Sam Smith, Caitlyn Jenner, Elliot Paige, and Demi Lovato have helped lead conversations about the different types of gender identity and share their own feelings.
Designers and fashion brands have already begun to embrace genderless fashion. For example, many are now casting a broader gender spectrum when hosting fashion shows. Unisex collections will become more commonplace online and in stores, too.
Also, consumers shouldn't be surprised to discover more genderless fashion labels in the near future, which could help people of all genders create a style that complements their identity and taste.
Simplified Fashion Collections
It was common for various fashion houses to produce up to eight collections per year. Yet, this tactic led to mass production of clothing that consumers weren't ready to wear, crowded fashion shows, and an increase in clothing waste.
For the above reasons, labels are now launching two collections each year, such as spring/summer or fall/winter. It will allow customers to buy products when they need them, such as finding a swimsuit during summer. It will simplify operations, buying, and fashion shows, improving consumer satisfaction and reducing business overheads.Besides, 70% of customers surveyed in the UK, US, Australia and China said they were willing to pay more for eco-friendly products.
Data-Driven Creations
Fashion designers and retail brands would often create whatever they wanted for consumers without considering their demographics' wants and needs. However, it is likely they will leverage data to learn more about consumer trends and audience preferences. Doing so could increase the likelihood of creating clothing, footwear, and accessories that consumers will want to own, which can lead to an increase in popularity and sales.
Predictive analytics can help designers and labels make informed choices regarding color preferences, political movements, and online trends. Using data to make design decisions can also help brands run a more sustainable business, as they can create pieces consumers will buy and wear, which will reduce waste.