The still beauty of Mykonos is so complete that the stresses of everyday life just fade away. There's something about its azure waters, sparkling white-washed architecture and mesmerizing summer breeze that sets it apart from the other Greek islands. Just a few steps from the lively Mykonos Town, we nestled in the privacy of Boheme Hotel.
With its exquisite beauty and elegance, Boheme is the kind of place you have to visit at least once in your life. An ode to chic, luxurious minimalism, it enables you to relax and slow down, while offering something for every traveler's taste. The hotel sits on a serene mountainside overlooking the Aegean Sea, just above the Megali Ammos Beach, at the edge of Mykonos Town, and about a 10 to 15-minute walk from the nightlife, dining, and shopping that has made the island famous.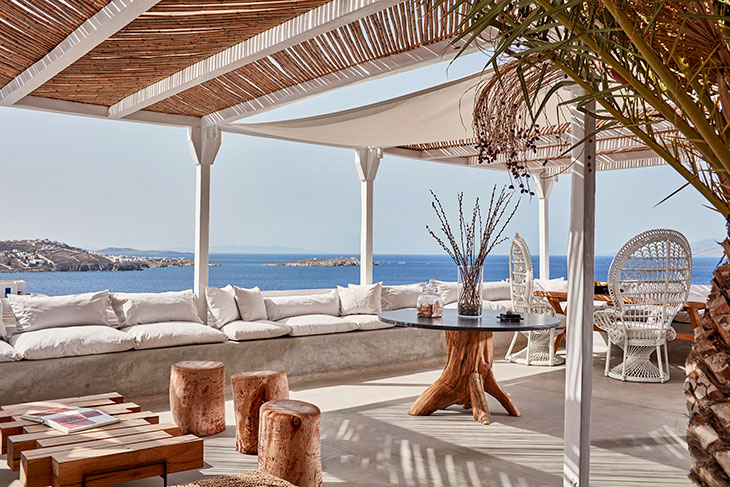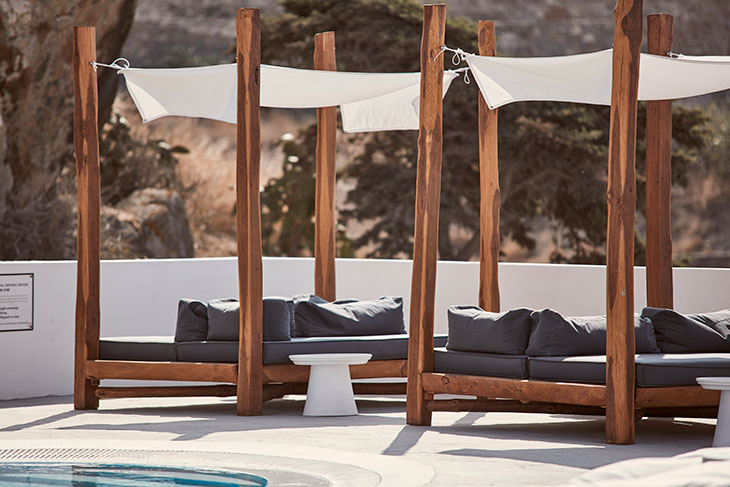 Typical of the architecture of Mykonos, Boheme's strong contemporary aesthetic encompasses the traditional character of the Cycladic Islands. With added bold flashes of colour, it artfully combines the relaxed vibe of a luxury hotel, with a hip boutique aesthetic, offering a gently bohemian atmosphere. The hotel's twenty incredibly chic suites, with refined details and charming natural elements, offer a cozy feeling and achieve the perfect combination of style and comfort. It almost makes you feel like you are at home away from home. Every room has a glorious view of the sea and the sunset from a private balcony or terrace. Plus some of the rooms have a private Jacuzzi with sea views.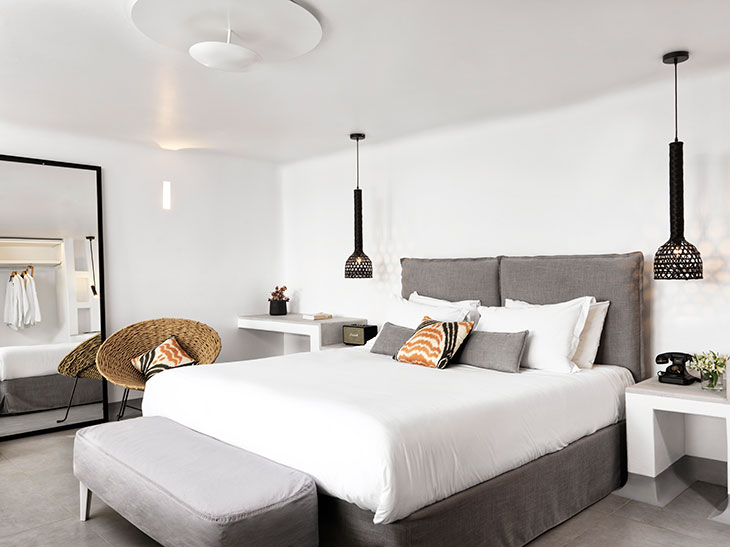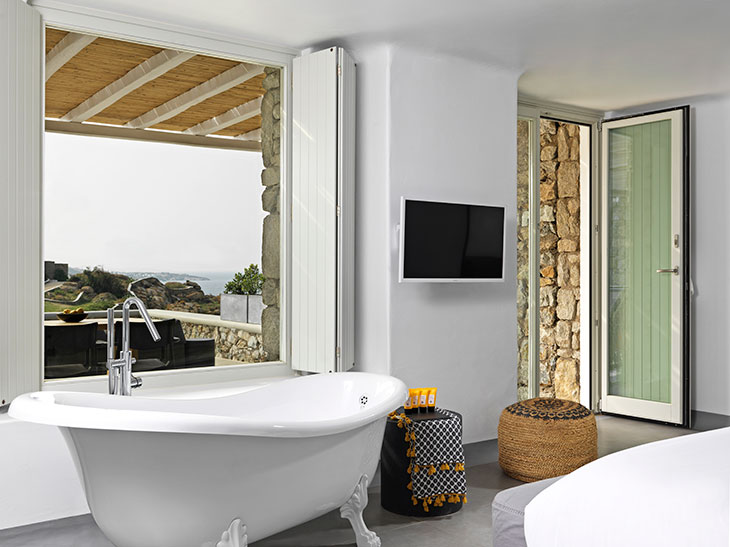 Mykonian light is something that has to be experienced in person, especially at sunset. And guess where the best sunset view of the island is – at Boheme's Bilo Bar. Run by masterful mixologists, it offers unique tailor-made cocktails. As magnificent sunsets require exquisite drinks, you can even choose ingredients for your cocktail from their beautiful garden filled with herbs and lemon trees. Bilo Restaurant offers a unique culinary adventure, with phenomenal dishes that combine contemporary cuisine with traditional Mykonian and Greek recipes, made with seasonal, locally sourced ingredients. What is a better way to start your day than with à la carte breakfast, served directly to the private balcony of your suite?
A gorgeous kidney-shaped infinity pool and a furnished sun terrace with an unobstructed sea view are perfect to enjoy a quiet early morning coffee, long lunch or a cocktail during the day. Experience an open-air massage set in an idyllic location or practice yoga in the beauty and peacefulness of Boheme's beautiful Mykonian garden.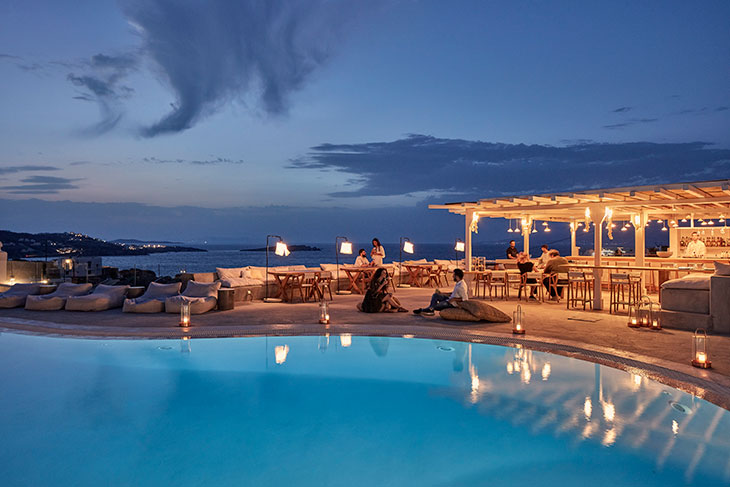 The front desk is truly the heartbeat of any hotel, and with the 24-hour reception and concierge service it's easy to arrange any activities, including yachting, island hopping, and tours of the Delos Island ruins, cooking classes, and much more.
With its secluded and almost dramatic view over the Aegean Sea, Boheme is a place where you can easily escape the exuberant nightlife of Mykonos and enjoy a more sedate existence, relishing in the smoldering sunsets and wild elemental beauty of the landscape.
Boheme Mykonos
Mykonos Town, Mikonos 846 00, Greece
www.bohememykonos.com
@bohememykonos
+30 2289 023300
info@bohememykonos.com