One of the greenest islands of Greece, Corfu is a perfect destination for nature lovers. It's impressive number of over 4 million olive trees, combined with crystal clear blue waters compose a breathtaking scenery.
On our visit to Corfu, we nestled in the peace, tranquility and comfort of MarBella Nido hotel. Offering the stunning views across the glistening waters of the Ionian Sea, this sumptuous resort occupies a secluded promontory located at Ágios Ioánnis Peristerón. Its contemporary style with a hint of old-world glamour, will leave you breathless from the moment you walk in.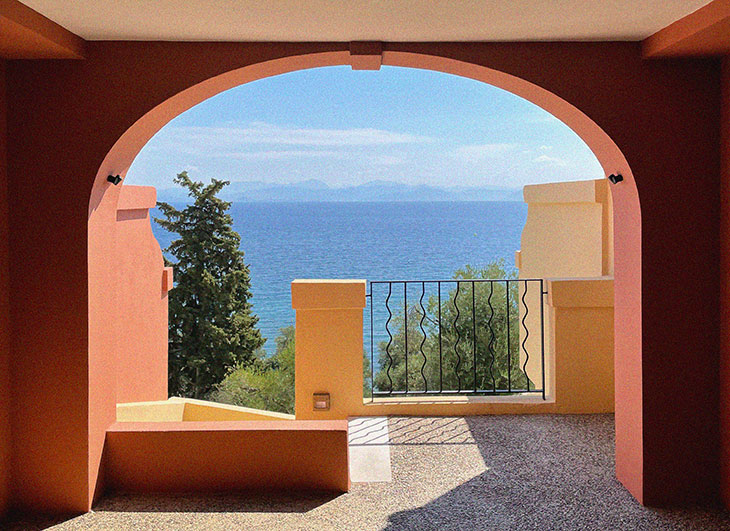 Location
This fabulous five-star adults-only resort sits on its own beach, located on a hill above the island's east coast road tunnel at Ágios Ioánnis Peristerón. It is situated adjacent to its sister, family-friendly hotel MarBella Corfu.
MarBella Nido is a perfect nest to explore central and southern Corfu, ideally with a scooter (the lovely hotel staff can help you with renting one). The charming, Unesco World Heritage-listed Old Town is 17km (30 min drive) north, while Achilleion Palace is just 8km (14 min) away.
The sunset-worthy Halikounas beach is 16km away. It stretches for more than 3 km, and is considered one of the most beautiful coastal areas in the Ionian complex. The beach lacks any kind of tourist facilities and has some nice and isolated spots for total privacy.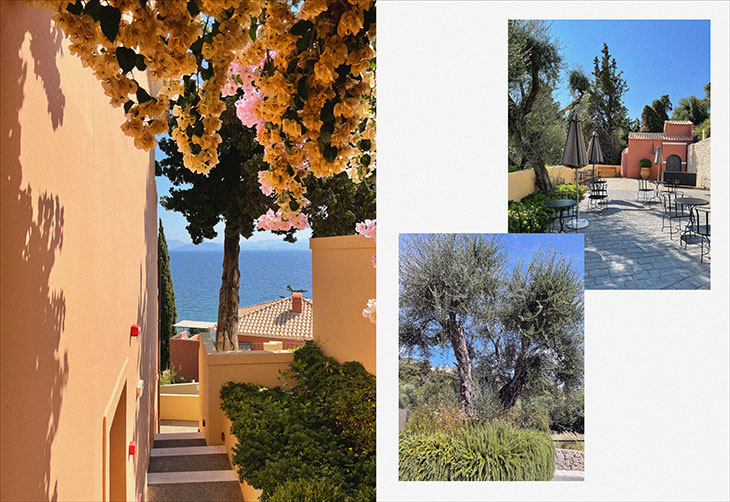 The Story
MarBella story began in the 60's when Vassilis Dracopoulos fell in love with Corfu and bought a property with a tiny house at Agios Ioannis Peristeron. Soon after, he built a complex of 62 rooms with a swimming pool and called it "MarBella" meaning Beautiful Sea in Italian.
MarBella Nido opened its doors in 2018, as a result of a growing demand for a sophisticated adult-only market. Surrounded by lush greenery and the glimmering Ionian Sea, it echoes Corfu's natural charm, making guests feel relaxed and at home during their stay. Marbella Nido Suit Hotel and Villas is a part of Small Luxury Hotels of the World.
Architecture & Design
Designed by the award-winning architectural studio, M-Agiostratitis, the hotel takes inspiration from Corfu's triple heritage (British, French and Italian) both in the architecture and the interior design.
The style particularly reflects the island's long Venetian heritage with the continuous arches echoing a traditional Venetian loggia. All suites and villas blend traditional elements with the simplicity of modern design, with neutral tones, offering sleek and elegant furnishings and a cozy and intimate atmosphere with stylish comfort. It's immaculate gardens, pools, fine dining and aristocratic furnishings are only missing a red carpet.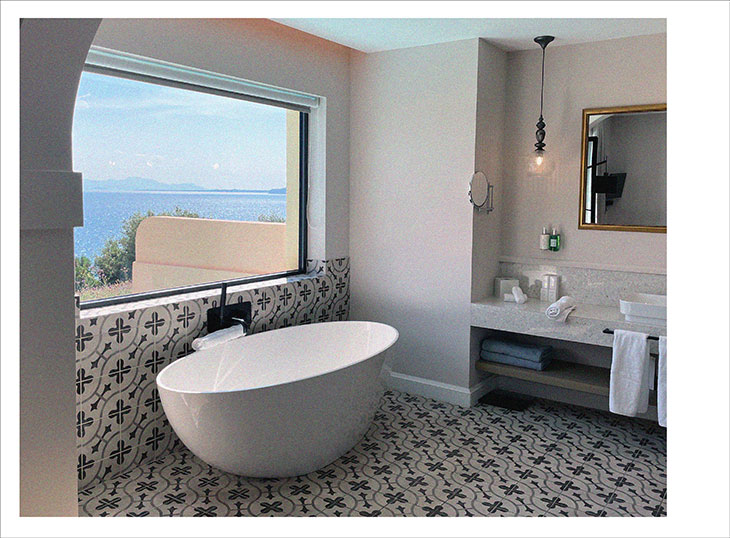 Rooms
With its 70 junior suites, deluxe suites and villas, the hotel offers a 180 degree view across the Ionian Sea. The rooms are contemporary in design with neutral tones, combined with a blend of wooden and traditional features, providing a sense of luxury, relaxation and tranquility.
The elegant furnishings feature nineteenth-century style armchairs and solid oak stools, as well as the finest linen and velvets sourced from world renowned brands. Each room has a spacious balcony and terrace area, with a hot tub or a private pool.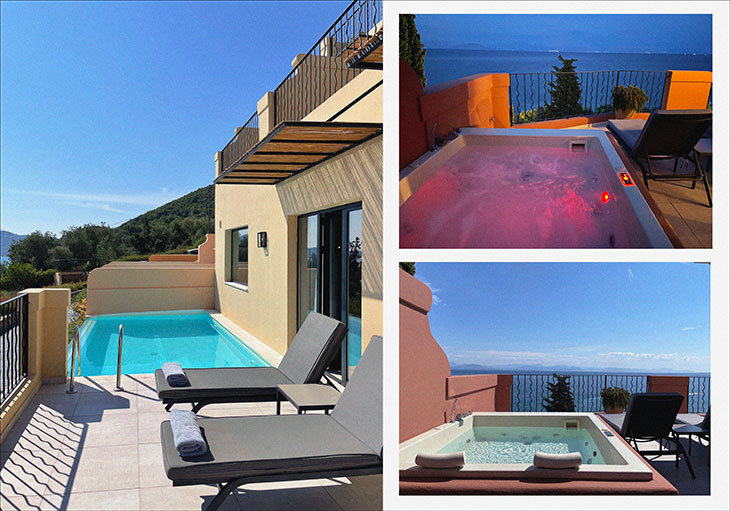 Pool & Beach
Spend a lazy day at the hotel's large infinity pool overlooking the sea or enjoy lunch at the Aquavit restaurant and bar. You'll find everything you need there, from loungers, umbrellas and fresh towels to refreshing drinks and snacks.
MarBella Nido also has its private beach located just across the street. Wide and inviting, the beach has sunbeds, umbrellas and fresh towels. It offers a wide range of activities, such as kayaking, windsurfing and paddle boarding.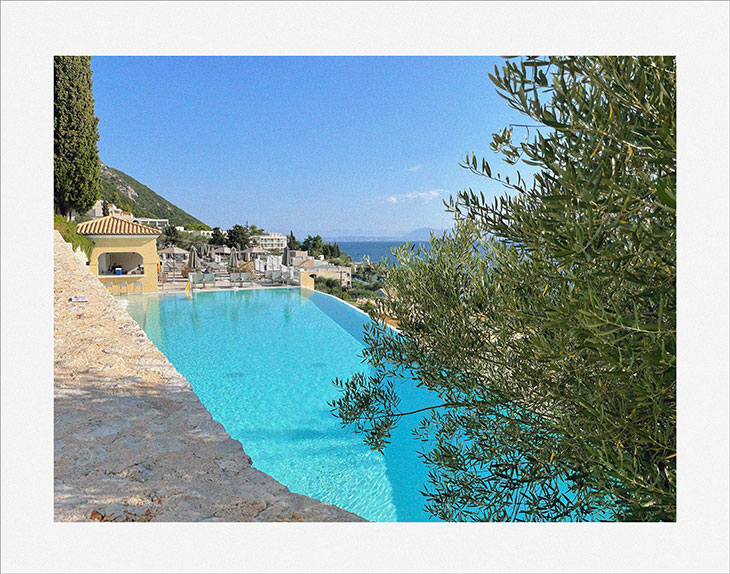 Dining
MarBella Nido offers unique gastronomic experiences. From fish selected directly from the market, to the wide choice of vegetarian and vegan options, almost all the ingredients are locally sourced.
The main restaurant San Giovanni allows panoramic views across the Ionian Sea, offering casual all-day dining in a relaxed atmosphere. Aquavit Pool a la carte restaurant and a bar is located right beside the swimming pool, and it's ideal to enjoy snacks and cold refreshments. Apaggio Gourmet a la carte restaurant is open for late dinners between 20:00-23:00, perfect for a quiet romantic dinner with your partner. At Heritage Lobby Bar you can chill out and enjoy a drink before dinner.
This past summer, MarBella Nido introduced a 'Greek Chefs Abroad Culinary Series', hosting well-known Greek chefs who were showcasing their culinary skills at the resort. The hotel also launched cooking classes, expert wine tastings and local 'Dine Out' evenings at nearby tavernas.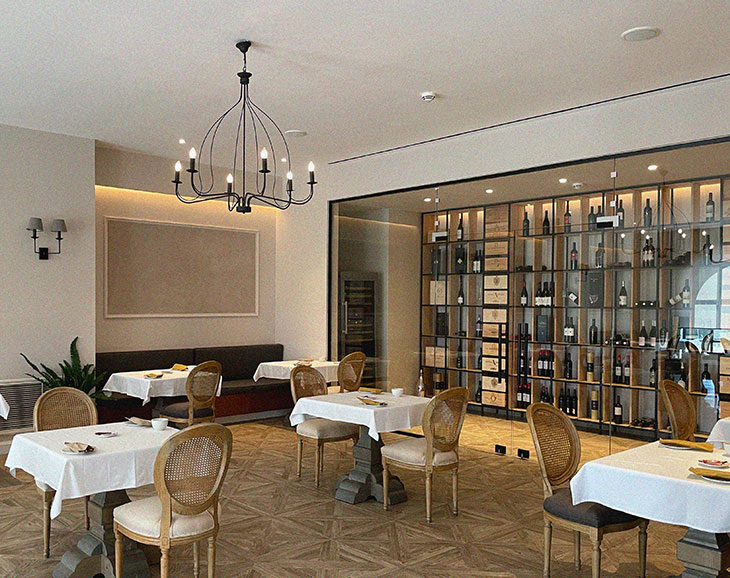 Sustainability
MarBella Collection has a strict environmental and corporate responsibility program started in 1999. They tend to reduce waste, conserve natural resources, and promote eco-friendly practices, with the aim of having a positive social and environmental impact.
Keep up with MarBella Collection on Instagram – @marbellacollectiongreece