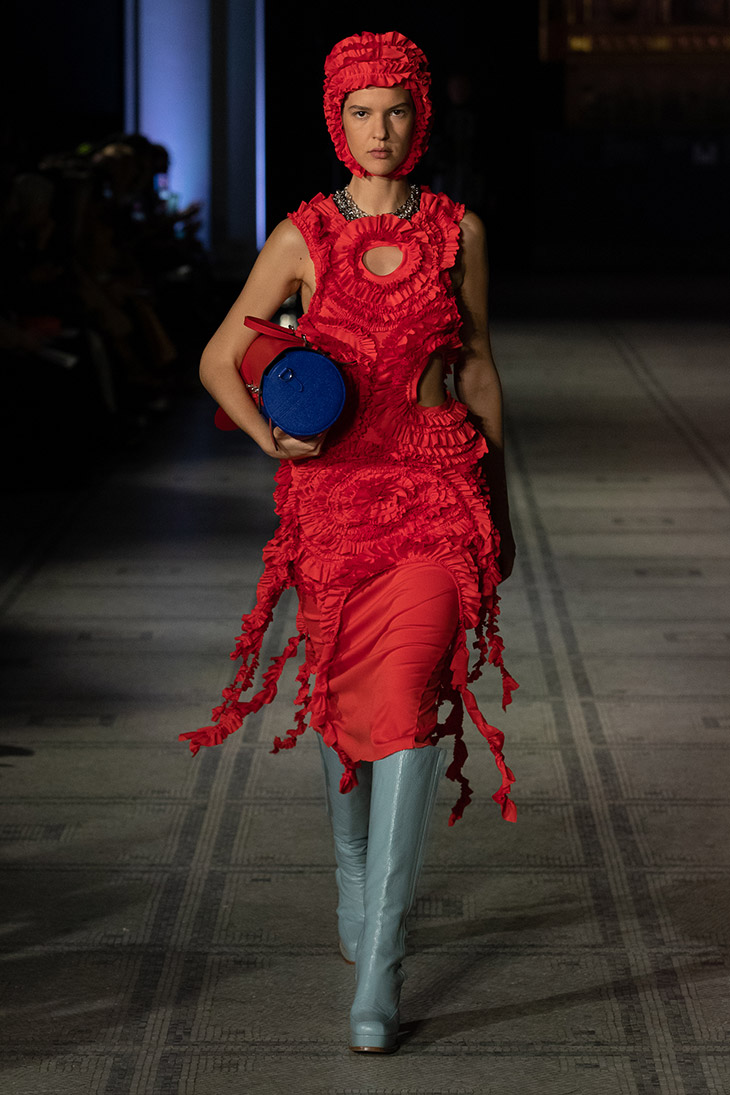 London Fashion Week is back for the Fall Winter 2022.23 season with over 131 designers. The final calendar released today by the British Fashion Council from includes well known names on the scene, from David Koma and Edeline Lee to Molly Goddard and Nensi Dojaka to Richard Quinn and Simone Rocha.
Scheduled to start on Friday 18th lasting to Tuesday 22nd February 2022, London Fashion Week will be a physical-digital hybrid, with catwalk shows, presentations, appointments and events alongside digital content.
British Fashion Council is once again streaming the digital content on the London Fashion Week platform at londonfashionweek.co.uk, following the scheduled time slots.
THURSDAY 17 FEBRUARY
18:00 – 22:00 W/M Local Goes Global Pop-Up Cocktail Launch RSVP
20:00 – LATE M NICHOLAS DALEY–Evening Event
FRIDAY 18 FEBRUARY
08:00–09:00 LFW Opening Breakfast–Morning Event
09:00 M SAUL NASH–NEWGEN CATWALK SPACE–NG
09:30–16:30 W TOGA–Appointments
09:30–17:30 ACC Dear Frances–Appointments
10:00 W SOHUMAN–Catwalk RSVP
11:00 W Bora Aksu–Catwalk
11:30–13:30 W Paul Costelloe–Presentation
13:00 W POSTER GIRL–Catwalk
14:00 W/M EDWARD CRUTCHLEY –Catwalk
15:00 W Conner Ives–NEWGEN CATWALK SPACE–NG
16:00 W On|Offpresents Jack Irving –Catwalk
16:30 – 18:30 W RIXO–Presentation
17:00 W/M Mark Fast–Catwalk
18:00 W Matty Bovan–Catwalk–NG
19:00 M S.S. Daley–NEWGEN CATWALK SPACE–NG
20:00 W/M London College of Fashion, UAL–Catwalk
20:30–21:30 M Kaushik Velendra AW22 Catwalk Show–Evening Event–Invite Only
20:30–22:00 W RIXO VIP Dinner -Evening Event–Invite Only
20:30–22:00 W Rue Agthonis AW22 Salon Show–Evening Event–RSVP
20:30–22:30 W DUMEBI Boutique Opening & Fashion Show–Evening Event–RSVP
20:30–22:30 W JOHANNES WARNKE • Debut Presentation–Evening Event–Invite Only
20:30–22:30 W/M Silk Road Fashion – Future Journeys. Fashion show & Boutique. – Evening Event – RSVP
20:30–23:00 W Argentina in London–Presenting FW 22 by Aynié & La Rando–Evening Event–RSVP
20:30–23:00 W/M Ning Dynasty AW22 Presentation & Afterparty–Evening Event–RSVP
20:30–00:00 Never Fade London x Mess Mag event–Evening Event–RSVP
20:30–LATE W/M Coming to America-Inspired Black-Owned Haute Couture Runway–Evening Event–Invite Only
20:30–LATE W/M NOK NOK x 5'ELEVEN'' Magazine "THE PENTHOUSE"–Evening Event–RSVP
21:00–LATE ES Magazine Relaunch Party –Evening Event–Invite Only
DIGITAL
10:00 W DiscoveryLAB presents: CHRISTOPH RITTER STUDIO
10:10 M DiscoveryLAB presents: Margn
10:20 W/M DiscoveryLAB presents: Abigail Ajobi
10:30 W SOHUMAN
10:45 W/M MITHRIDATE
11:00 M SAUL NASH–NG
13:45 W/M U.Mi-1
14:00 W/M EDWARD CRUTCHLEY
15:00 W/M Stephen Jones Millinery
15:15 W VINTI ANDREWS
15:30 W palmer//harding
SATURDAY 19 FEBRUARY
9:00–10:00 W Noon By Noor–Morning Event–Invite Only
09:30–18:30 W EDELINE LEE–Appointments
10:00 W Nensi Dojaka–NEWGEN CATWALK SPACE–NG
11:00 W Eudon Choi–Catwalk
12:00 W/M Ahluwalia–Catwalk–GQ
13:00 W EFTYCHIA–NEWGEN CATWALK SPACE–NG
14:00 W Molly Goddard–Catwalk
15:00 W Huishan Zhang–Catwalk
16:00 M ROBYN LYNCH–NEWGEN CATWALK SPACE–NG
17:00 W HALPERN–Catwalk
17:30–19:30 W/M SCOTT HENSHALL–Presentation
18:00 W/M DANIEL w. FLETCHER –Catwalk
19:00 W/M Labrum London–NEWGEN CATWALK SPACE–NG
20:00 W/M Richard Quinn–Catwalk–NG
20:30–20:50 W L SAHA A/W 22 Show –Evening Event–Invite Only
20:30–21:00 M Jaded Life Collective : Afrofuturism – Time Traveller–Evening Event–RSVP
20:30–22:30 W Banshee of Savile Row Salon Show/Presentation–Evening Event–RSVP
20:30–22:30 W Hip Curve & Friends Catwalk –Evening Event–RSVP
20:30–22:30 W/M MARIA FATHI CATWALK SHOW–Evening Event–RSVP
20:30–22:30 M "THE WILL TO FORM" A Presentation By Reuben Selby –Evening Event–RSVP
20:30–00:00 Never Fade London x Mess Mag event–Evening Event– RSVP
20:30–LATE W MONA CORDES: CELLUSION (FASHION DANCE PERFORMANCE)–Evening Event–RSVP
20:30–LATE W/M Tokyo James Presents: A rave with the frogs – powered by Jendaya–Evening Event–Invite Only
DIGITAL
10:00 W DiscoveryLAB presents: Anciela
10:10 W DiscoveryLAB presents: J E CAI
10:20 W DiscoveryLAB presents: Florentina Leitner
11:30 W/M BMUET(TE)
11:45 W/M SEOKWOON YOON
12:00 W/M Ahluwalia–GQ
12:30 W TOGA
12:45 W DI PETSA
13:00 W/M av vattev
14:15 W/M JENS LAUGESEN
14:30 W/M RAY CHU
14:45 W Banshee of Savile Row
15:00 W MARQUES ' ALMEIDA
18:00 W/M DANIEL w. FLETCHER
SUNDAY 20 FEBRUARY
09:30–18:30 W EDELINE LEE–Appointments
10:00 W yuhan wang–NEWGEN CATWALK SPACE–NG
10:30 – 18:30 W Temperley London – Appointments
11:00 W/M CENTRAL SAINT MARTINS MA FASHION–Catwalk
12:00 W 16Arlington–Catwalk
14:00 W IA London – Catwalk
15:30–17:30 W/M INGRID KRAFTCHENKO–Presentation
16:00 W David Koma–Catwalk
17:00 M Stefan Cooke–NEWGEN CATWALK SPACE–NG
18:00 W Simone Rocha–Catwalk
19:00 W/M FASHION EAST–Catwalk
20:30 – 21:30 W AADNEVIK Catwalk Show–Evening Event–RSVP
20:30 – 22:30 W/M Lan of Fashion London Runway Showcase – Evening Event- RSVP
20:30–00:00 Never Fade London x Mess Mag event – Evening Event- RSVP
21:30–LATE W/M Unhidden–Future Proof Fashion–Digital Presentation, Q&A, Drinks–Evening Event–RSVP
DIGITAL
10:00 W/M DiscoveryLAB presents: Sól Hansdóttir
10:10 M DiscoveryLAB presents: Strongthe
10:20 ACC DiscoveryLAB presents: EX-A STUDIO
10:45 ACC STAXX
11:00 W/M SCOTT HENSHALL
11:15 M Harris Wharf London
11:45 W Elleme
12:00 W On|Off presents Jack Irving
18:00 W Simone Rocha
MONDAY 21 FEBRUARY
09:30 – 11:00 ACC ROKER–NEWGEN PRESENTATION SPACE–NG
09:30 – 18:30 W EDELINE LEE–Appointments
12:00 W ROKSANDA–Catwalk
13:00 W Preen by Thornton Bregazzi–Catwalk
14:00 W SUPRIYA LELE–NEWGEN CATWALK SPACE–NG
14:30 – 15:45 A Future of Fashion Commerce Discussion with Clearpay – Partner
15:00 W/M Erdem–Catwalk
16:00 W PAUL & JOE – Catwalk
16:30 – 18:30 W/M Feng Chen Wang – Presentation
18:30 – 20:30 W/M FEBEN–NEWGEN PRESENTATION SPACE–NG
19:00 W Rejina Pyo–Catwalk
20:30 – 22:30 W/M Carlota Barrera–Evening Event–Invite Only
20:30 – 00:00 Never Fade London x Mess Mag event–Evening Event–RSVP
21:00 – LATE Perfect Magazine Party with BY FAR and ANTI-AGENCY celebrating Perfect Issue 2 – Evening Event: Invite Only
DIGITAL
10:00 W DiscoveryLAB presents: DREAMING ELI by Elisa
10:10 M DiscoveryLAB presents: SASKIA
10:20 W/M DiscoveryLAB presents: Ester Kubisz
11:00 W/M Vivienne Westwood
11:15 W/M APUJAN
11:30 ACC HELEN KIRKUM–NG
11:45 W ACCIDENTAL CUTTING
12:30 M Kaushik Velendra
15:15 W/M PRONOUNCE
15:30 W/M London College of Fashion, UAL
15:45 W/M 8ON8
16:00 W PAUL & JOE
16:30 W/M Helen Anthony
TUESDAY 22 FEBRUARY
08:30–10:00 M Bethany Williams–Presentation–V
09:30–18:30 W EDELINE LEE–Appointments
11:30–13:30 ACC Completedworks–Presentation
16:00 W/M KWK by KAY KWOK–Catwalk
18:00 – 19:00 W/M SATISFACTORY–Claudia Wang AW 22 Digital Presentation Screening–Evening Event–RSVP
18:00 – 19:00 W Sheguang Hu Fashion Show / Invite Only – Evening Event – RSVP
18:30 – 21:00 ACC Hai Autumn Winter 22 Presentation–Evening Event–Invite Only
18:30–21:30 W/M Global Fashion Perspectives Launch–Evening Event–RSVP
19:30 – 20:00 ACC War of the Gods–SERERA AW22–Evening Event–RSVP
19:30–00:00 Never Fade London x Mess Mag event–Evening Event–RSVP
DIGITAL
10:00 M DiscoveryLAB presents: DJOKIC
10:10 ACC DiscoveryLAB presents: Westernaffair
10:20 W DiscoveryLAB presents: VeniceW
10:30 W Emilia Wickstead
11:00 M Bethany Williams–V
11:15 W/M MARRKNULL
11:30 ACC oqliq
11:45 W yuhan wang
12:00 W/M MAXXIJ
12:15 W JENN LEE
15:00 W/M Carlota Barrera
15:15 W/M Johan Ku
15:30 W Richard Malone
15:45 M Per Götesson – NG
16:00 W RIXO
16:15 W/M Mainline:RUS/Fr.CA/DE
16:30 W/M INGRID KRAFTCHENKO
16:45 W/M GEO
KEY
W Womenswear
M Menswear
W/M Womenswear/Menwear
ACC Accessories
NG BFC NEWGEN
GQ BFC/GQ Designer Fashion Fund
V BFC/Vogue Designer Fashion Fund