Fashion house AMIRI presented the Spring Summer 2023 Menswear Collection representing a tangible reinforcement of the AMIRI world – one founded on artisanal instinct: of dreaming without boundaries. Transposing the pureness of Mike's early creative expression to today, this ethos thrives on a grander scale, combining freethinking with a high-art skillset. As the artist's workshop and the designer's atelier become indistinguishable, AMIRI encourages you to draw outside the lines, to create free from the ritual codes of tradition. With complete authenticity, the collection is signed off in Mike's own words: Engineered in California, inspired by precious memories. For the young and the young at heart.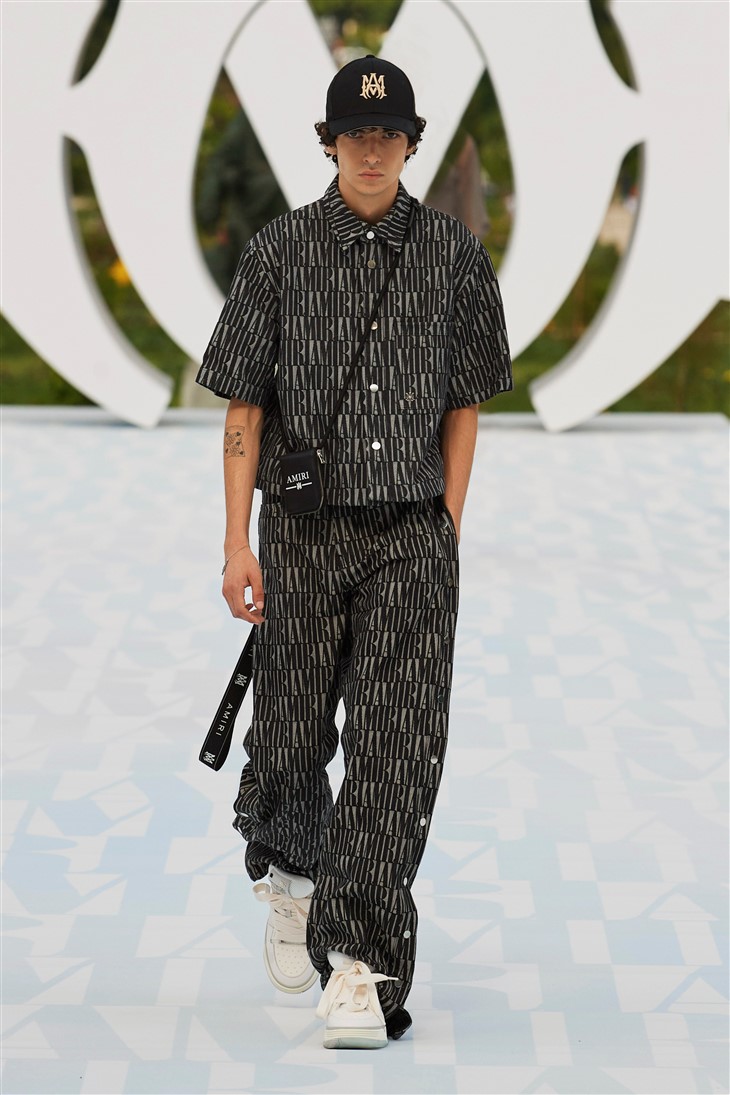 It's no coincidence that this limitless philosophy was forged in AMIRI's home of California: in the West Coast sun, imagery blurs, outlines dance and ideas born in fantasy are projected into a tangible reality. Translating this atmosphere and sensibility, familiar tailoring lines melt, as does a rich palette of alabaster, dusty rose and azure blue – sun-faded, tones mix and fabrics become mirages that shimmer towards the light. Lightness of volume mirrors texture: elegant fabrications traditionally so pristine, so prescribed – leather, silk, suede, cashmere – are imbued with new meaning, reworked through the season's lens to inform a laidback and effortless wardrobe. Sophistication no longer means done up – it's a flow, a union of casual and craft.
California's sports fields and skate parks are ever-present. Tracksuit silhouettes are reimagined in tiedyed silk charmeuse with drawstring hems, aged appliqué makes perforated football jerseys appear well- worn, their crocodile leather panels evoking shoulder padding, and shorts are elongated like those worn by punks and skaters alike. Vintage varsity jackets are sliced and spliced, patchworked to create ultimate reconfigurations as an ethereal bomber jacket is hand-embellished with crystal stars and chiffon clouds. Suiting floats with the weight and grace of jersey, and in return, casual shapes are crafted with the sophistication of tailoring. Pleated wide-leg trousers are reminiscent of baggy skate pants as cropped hems expose midriffs in that distinctly 90s manner. Tucked in, blazers deconstructed and cut to a casual slouch, their seams removed to liberate traditional shapes and create flyaway volumes inspired as much by sportswear as stagewear.