Is the classic diamond feeling a bit too…drab? For centuries, diamonds have been considered "a girl's best friend," but today young women are seeking out something a bit more exotic. While colorful gemstones may have a reputation for being cheap or tacky, they certainly don't have to be. It all depends on your perspective…and your budget.
For couples who wish to step outside the box for their proposal and marriage, we have just the thing: colorful gemstone alternatives that are as luxurious and impressive as any diamond.
These stunning gemstones will jumpstart her jewelry collection and make her favorite Gucci extra Gucci.
7 Unique Engagement Ring Gemstones Your Fiancé Won't Stop Talking About
Her designer outfits require an engagement ring that's so much more than "typical." Diamonds are out, colorful gemstones are in—and you're committed to finding the most unique engagement ring gemstone on the market.
To jumpstart your search, here are some of our favorite engagement ring gemstones.
Colorful Diamonds: Black, Diamonds, Blue Diamonds, and More
While classic clear diamonds are certainly a catch, colorful diamonds are even more exciting. If you're not already acquainted with colorful diamonds, allow us to introduce you.
Black diamonds are a luxurious choice, worn by people like Taylor Swift, Rihanna, and let's not forget the iconic Carrie Bradshaw from Sex and the City.
Blue diamonds provide the familiar cool beauty of a sapphire but with their own unique and luxurious twist. They're the perfect "something blue" to wear alongside a wedding dress—and will make a lifetime accessory she's proud to show off at every event.
Yellow diamonds were popularized by classic Hollywood stars, like Audrey Hepburn and Marilyn Monroe, and modern stars, like Heidi Klum and Megan Fox. Slipping a yellow diamond engagement ring onto her finger aligns her with some of the most famous names in the history of Hollywood—and provides her with an heirloom piece to cherish forever.
Tsavorite Engagement Rings
Tsavorite is an extremely rare form of garnet. It lets off a brilliant green hue, similar to the emerald but with a stronger forest green shimmer. While the stone is rarer than emerald, it's actually less expensive. We recommend decorating your fiancé-to-be's engagement ring with a three-carat tsavorite stone and shimmering pavé diamonds.
The tsavorite gemstone is named after one of Africa's beloved national parks, making it a perfect stone for nature lovers. Bonus points if you propose to her under the Baobab trees in Tsavo National Park itself.
Alexandrite Engagement Rings
Let us guess: she has a completely different personality when she's hungry. Well, she and the alexandrite ring will get along then. Alexandrite is one of the only gemstones that naturally changes color throughout the day. In the morning, you should expect it to appear blue or green—but in the afternoon, alexandrite has a completely different personality of red and purple.
"Did you get a new engagement ring?" her friends will ask. Nope, it just changes color.
Nature-made alexandrite is extremely rare—and the price depends both on the size of the gemstone and its color-changing abilities. You can also purchase lab-created alexandrite.
Decadent Ruby, Sapphire, and Emerald Engagement Rings
While these are some of the more common colorful gemstones on the market, rubies, emeralds, and sapphires can take on a life of their own…under the right circumstances.
When purchasing a colorful semi-precious stone, we highly recommend you find a jeweler that provides AAAA or heirloom grade gems (within the top 10% of gemstone quality). These quality grades make a huge difference in the overall presentation of your emeralds, rubies, and sapphires—creating exuberant colors that will stand out from cheaper gemstones of the same name.
Sometimes, all you need to create a memorable engagement ring is to focus on quality, grading, and color vibrancy first.
Ceylon Sapphire Engagement Rings
Ceylon sapphire is just like a regular sapphire…but even better. The Ceylon exudes a brilliant glassy blue shade that's even more vibrant and fluorescent than the typical sapphire. It's found in Sri Lanka and Madagascar and is fairly rare. Surround your Ceylon sapphire engagement ring with a halo of natural diamonds or a stunning pavé band.
Tanzanite Engagement Rings
Tanzania is home to one of the most interesting (and incredibly rare) gemstones used for engagement rings. Tanzanite is a gorgeous violet blue gem. Its unique color makes it stand out from other popular gemstone options, like sapphire and amethyst. Tanzanite is only found in one place on earth—which makes it even more exotic and rare. Tanzanite mines are expected to run out of gemstones in the next twenty years or so.
While tanzanite is certainly a one-of-a-kind engagement ring investment, it's softer than some other precious stones. We recommend removing it before doing household chores, playing outdoor games, or performing any strenuous activities. The extra precautions will be well worth it when you explain to your grandchildren that you proposed with one of the last natural tanzanite stones on earth.
Orange Sapphire Engagement Rings
Did you know? Sapphire actually comes in an array of brilliant rainbow colors—including orange. There are very few women who get to show off a stunning orange engagement ring—which is why we love orange sapphire for out-of-the-box couples.
It's not just another diamond…that's for sure!
To make your orange sapphire even more unique (and perhaps a bit spooky), we recommend pairing it with a black gold band. It'll look fabulous alongside your designer dress at your engagement party.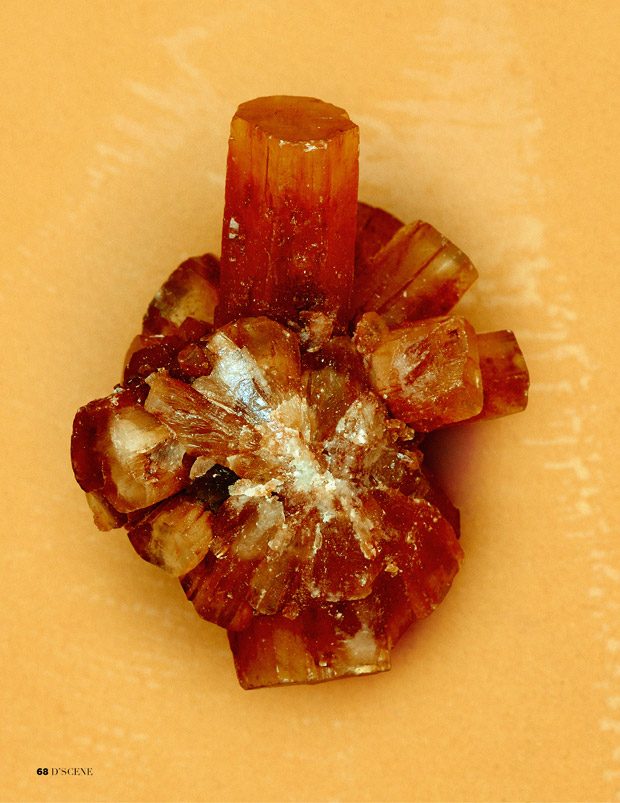 Colorful Gemstones Are the Future — Get Ahead of the Trend Now
Diamonds mark our parents and grandparents' generations.
But the next generation will be known for their taste in sapphire, tanzanite, colorful diamonds, and unique alexandrite. Stay ahead of the trends and embrace the future stylish grandma you're meant to be. By championing your taste in colorful gemstones, you're making a statement about your individuality—as a person and a couple.
And we think that's worth celebrating.
Images from Stone Roses by Takahiro Ogawa for D'SCENE Magazine Winter 2016.17 Issue
– See the full story here