At the heart of the magnificent Kopaonik mountain range in Serbia, lies a haven of unparalleled luxury and breathtaking natural beauty – Viceroy Kopaonik Hotel. Nestled amidst the snow-capped peaks and surrounded by a vibrant ecosystem, this exquisite hotel offers a truly unforgettable experience for discerning travelers seeking the perfect blend of adventure, relaxation, and sophistication.
Viceroy Kopaonik Hotel stands as a testament to the brand's commitment to delivering exceptional hospitality and captivating design. As the first and only five-star hotel on this remarkable mountain, it sets the bar high for luxury accommodations in the region. Since its opening in June 2021, it has quickly become a coveted destination for those who appreciate the finer things in life.
Location
Nestled in the heart of Kopaonik, a breathtaking mountain range in Serbia, Viceroy Kopaonik boasts an enviable location that offers both natural beauty and convenient access to outdoor adventures. Surrounded by pristine forests and snow-capped peaks, the resort provides a serene and picturesque setting for guests to immerse themselves in nature's wonders. Whether you're seeking exhilarating ski slopes or tranquil hiking trails, Viceroy Kopaonik's prime location ensures that outdoor enthusiasts and nature lovers can truly embrace the splendor of this mountain paradise.
Rooms
The hotel boasts 119 spacious and elegantly appointed rooms, which are among the largest on Kopaonik mountain. From the moment you step into your standard king room, with its generous 35 square meters of space and a 9 square meter balcony, you will be greeted by a harmonious blend of contemporary comfort and breathtaking mountain views.
In addition to its remarkable accommodation, Viceroy Kopaonik Hotel features state-of-the-art conference facilities, making it an ideal destination for both business and pleasure. With three versatile event spaces of varying capacities, the hotel caters to everything from small business meetings to larger gatherings, all with stunning views of Pančićev vrh and private terraces for intimate celebrations.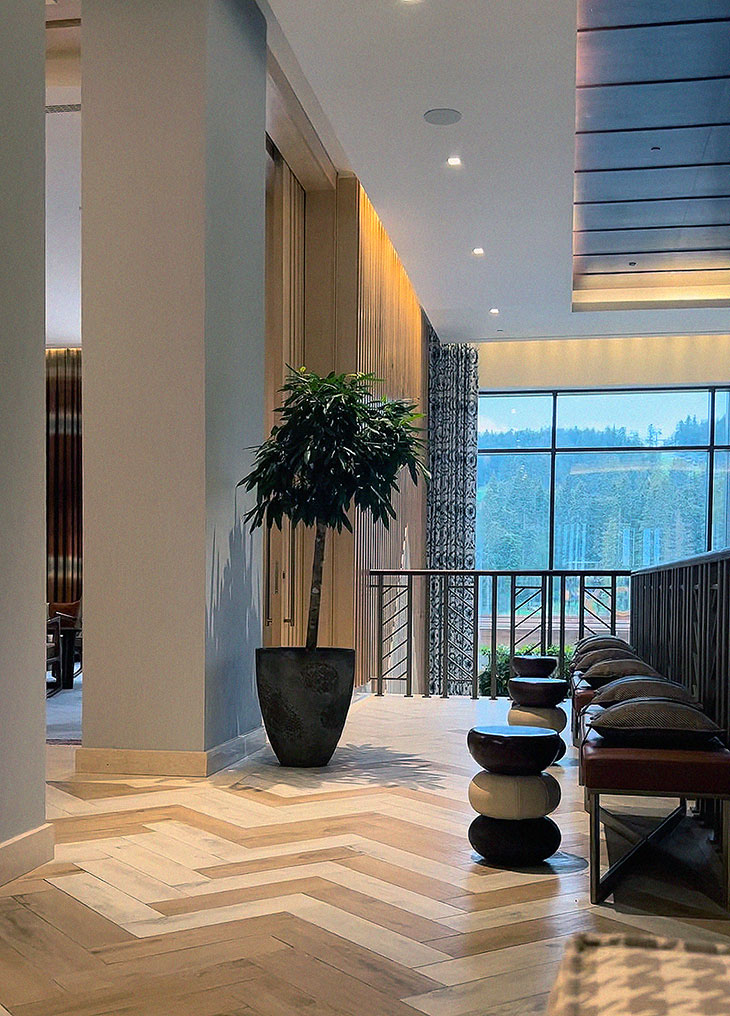 Design
A harmonious blend of natural beauty and contemporary elegance, the design concept draws inspiration from the awe-inspiring mountain landscape that surrounds the resort, creating a seamless connection between the interior and the natural world outside. The guestrooms are meticulously crafted havens of tranquility, with a thoughtfully chosen palette of earthy tones and organic materials, reflecting the serenity of the mountains. The integration of dark timber, crisp white accents, and abundant natural light creates a soothing atmosphere, inviting you to relax and unwind in style.
A mesmerizing interplay of textures, colors, and light, every detail has been carefully considered to enhance your comfort and elevate your experience. Modern amenities seamlessly blend with indigenous elements, showcasing the rich cultural heritage of the region. The result is a design that is both timeless and contemporary, capturing the essence of mountain luxury.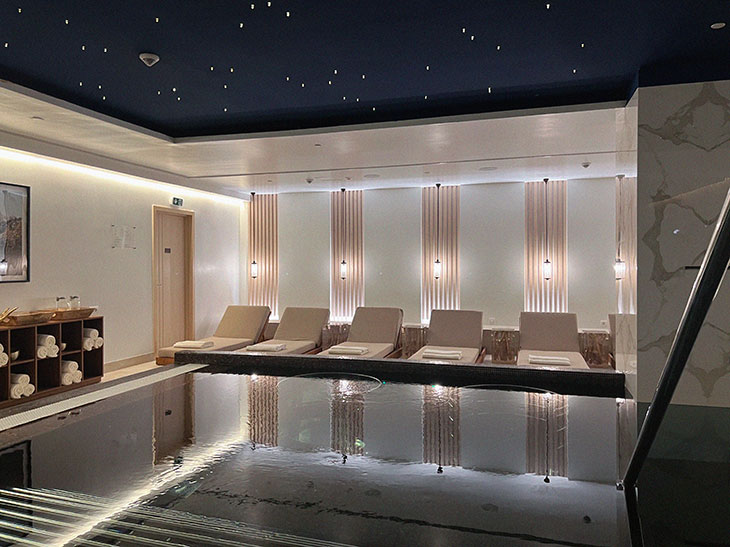 Spa
To truly unwind and rejuvenate, guests can indulge in the luxurious spa experience at The Spa by Viceroy. This comprehensive wellness center serves as a true mountain oasis within the hotel. With a range of beauty and cosmetic treatments using locally sourced products that blend seamlessly with the natural surroundings, guests can immerse themselves in a meditative atmosphere. The indoor revitalizing pool, all-inclusive fitness center, outdoor pool, saunas and steam room offer stunning views of the picturesque mountain landscape, providing the ultimate relaxation and pampering. In addition, the fully equipped gym allows guests to maintain their fitness routines while enjoying breathtaking mountain views.
Additional Amenities
As a testament to its commitment to providing unparalleled service, Viceroy Kopaonik Hotel offers an array of additional amenities. Helicopter transportation to and from Kopaonik can be arranged upon request, ensuring a seamless and unforgettable arrival. The 24-hour room service caters to guests' every need, while the hotel's family rooms and apartments offer the flexibility of connecting rooms for larger groups. The Presidential Suite, spanning an impressive 180 square meters, provides direct access from the elevator, offering a truly exclusive and opulent experience.
If you're looking for a cozy retreat, the Library Lounge offers a peaceful haven where guests can unwind while enjoying a rich collection of popular domestic and international bestsellers, biographies, and educational books. Accompanied by artisan coffee, herbal teas, or carefully crafted beverages, this space invites you to pause and relax, regardless of your destination.
Ski Concierge
For skiing enthusiasts, Viceroy Kopaonik Hotel offers a comprehensive ski concierge service, facilitating direct ski pass purchases and providing access to ski schools. The ski storage area includes additional lockers with boot warmers, ensuring that your equipment is in pristine condition for your next adventure. The ski concierge service operates until 10 PM.
One of the standout features of Viceroy Kopaonik Hotel is its ski-in, ski-out accessibility. Guests can enjoy direct access to the ski slopes from the hotel, allowing for a seamless and convenient skiing experience. Whether you are a seasoned skier or a beginner looking to embark on an exhilarating adventure, the hotel's prime location ensures that you make the most of your time on the slopes.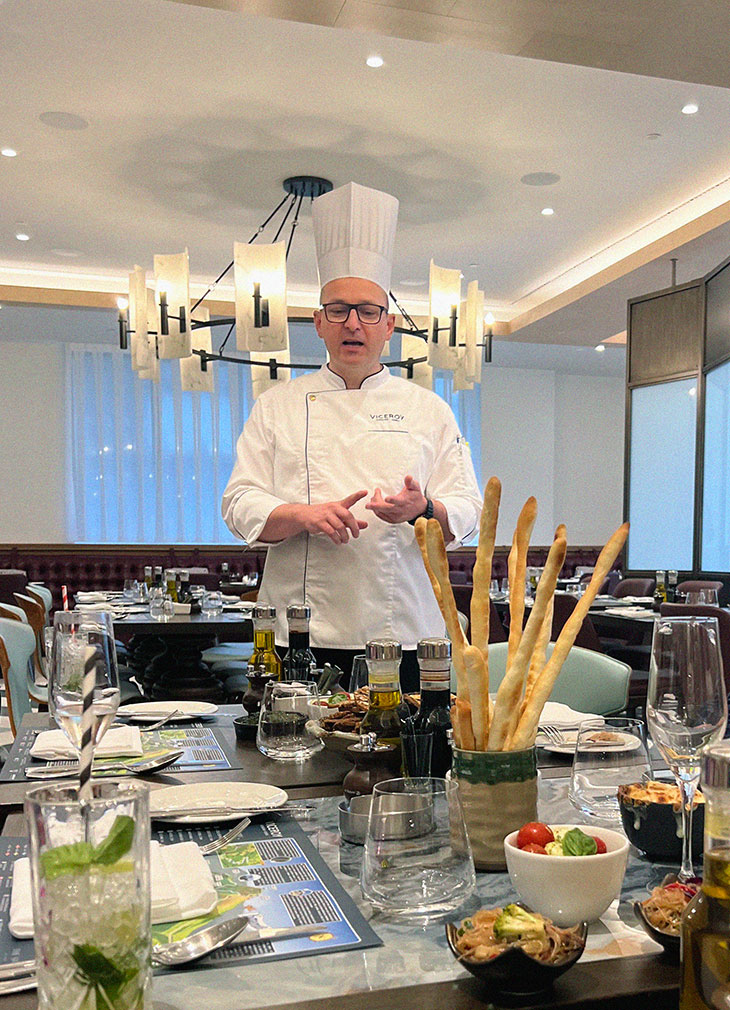 Food & Beverage
When it comes to dining, Viceroy Kopaonik Hotel leaves no stone unturned in tantalizing the taste buds of its guests. The Mountain Kitchen, the hotel's all-day dining restaurant, offers a delightful fusion of local and international cuisine served in a modern and inviting setting. The restaurant prides itself on using only the freshest ingredients and the finest local produce, showcasing the culinary excellence of Kopaonik and Serbia. The extensive wine selection features the sophisticated wines from Serbia, Europe, and beyond, ensuring the perfect pairing for every palate.
For those seeking a more casual dining experience, the Pique Ski Bar provides a vibrant atmosphere where guests can indulge in a mix of Lebanese-Mediterranean dishes and Serbian specialties, presented in a modern and creative way. From relaxing daytime meals to energetic evening entertainment, this bar captures the essence of mountain life and offers stunning views of the majestic Pančićev vrh.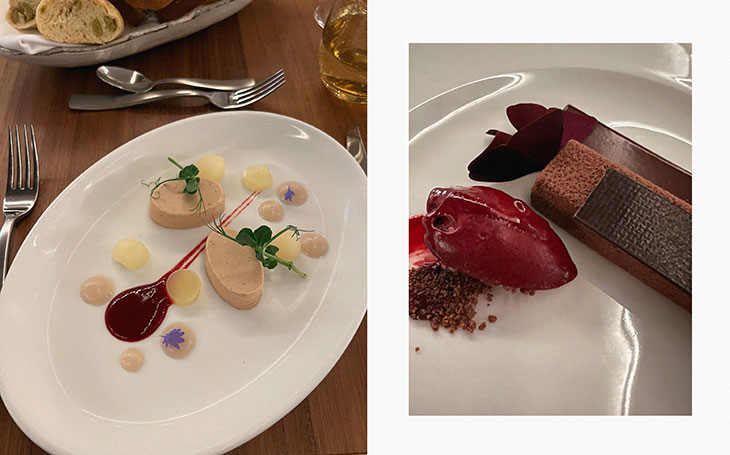 For an exceptional fine dining experience, Peroko restaurant is the perfect choice. Combining Serbian "pero" (feather) and Japanese "uroko" (fish scales), the restaurant's name signifies its focus on seafood delicacies. With a touch of Japanese-Asian influences, this fine dining establishment opens its doors during the winter season, offering a delectable menu highlighted by its signature dish, duck.
Empowering Local Community
Beyond the exceptional accommodations and prime location, Viceroy Kopaonik Hotel goes above and beyond to create an immersive and enriching experience for its guests. The hotel is committed to supporting the local community and preserving the natural environment. The design of the hotel draws inspiration from the local identity of Suvо Rudište, incorporating local elements with the signature contemporary spirit of Viceroy. Furthermore, Viceroy launched the "For the Love of the Forest" initiative in collaboration with the Kopaonik National Park, donating a tree sapling for every direct booking made through the Viceroy website. This commitment to sustainability and community engagement adds an extra layer of depth and meaning to the Viceroy experience.
Viceroy Kopaonik
Trg Josifa Pancica 12, 36354 Kopaonik, Serbia
+381 36 515 5500
vks.reservations@viceroyhotelsandresorts.com
www.viceroyhotelsandresorts.com
Keep up with Viceroy Kopaonik on Instagram – @viceroykopaonik