For the Fall-Winter 2023-2024 season, Loro Piana introduces "LORO", a timeless capsule collection that prioritizes environmental sustainability. Crafted exclusively from recycled cashmere, sourced from the brand's excess knitwear, this initiative is a significant step towards repurposing luxurious fibres and diminishing waste.
The name "LORO", translating to "they" in Italian, encapsulates the collection's universal appeal. Designed to be inclusive, the collection spans a wide age and size range, from children aged 8 to adults with sizes up to 4XL for both men and women. This sustainable line does not compromise on Loro Piana's renowned quality and craftsmanship. With each piece, one witnesses the brand's commitment to unparalleled luxury, embodying their deep-rooted expertise in refining premium fibres to achieve a distinctive touch. In doing so, the maison reaffirms its dedication to sustainability and revaluing resources for the future.
Loro Piana's commitment to sustainability is evident in their integrated production process. Every stage, from sourcing raw materials to crafting the final product, undergoes rigorous internal quality control. This meticulous approach, with a keen emphasis on environmental preservation, biodiversity, and community support, laid the foundation for the "LORO" collection.
As part of this sustainable process, Loro Piana meticulously repurposes its surplus knitwear made of pure carded cashmere. Every detail, from stitching to zippers, is carefully removed by hand. The reclaimed fabric is then sorted by color, cleansed, deconstructed, and mixed with virgin, undyed cashmere. This intricate process, spanning approximately three days for a single knitwear piece, bears testament to Loro Piana's unparalleled craft. The outcome is a product that seamlessly blends fibres from various sources, achieving an extraordinary texture that's indistinguishable from new cashmere.
The "LORO" collection showcases an array of essentials. Highlighted items include four sweater styles – polo, turtleneck, round neck, and V-neck, accompanied by complementary accessories such as scarves and hats. These pieces are defined by their modern, minimalistic designs and a distinct mélange color palette.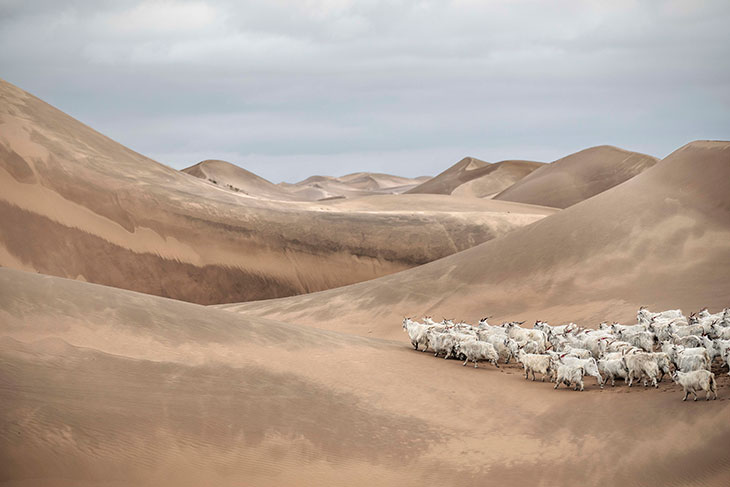 These hues, ranging from Grain Brown and Pure Dunes to Rain Clouds, Dusk Sky, and Red Sand, result from a unique blending of recycled and undyed virgin cashmere. Further enhancing the collection are the 360 Flexy Walk sneakers, a testament to lightweight luxury, weighing just 360 grams, featuring agile anti-slip soles paired with a cashmere exterior.
From September 1st, fashion and sustainability enthusiasts can shop from the "LORO" collection, both in Loro Piana boutiques and online at loropiana.com.