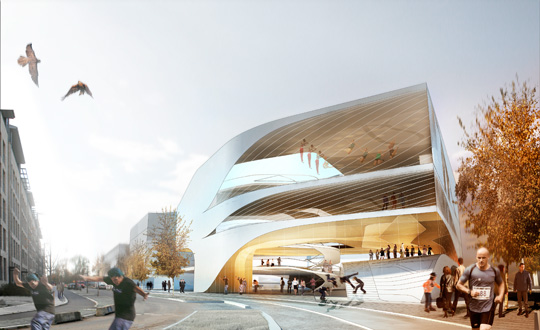 Location: Dirch Passers Allé, Frederiksberg, Denmark
Client: Frederiksberg Municipality, Realdania, Lokale- og Anlægsfonden
Size: 4,000 m2
Budget: € 17,5 m
Competition: 2010
Designed by 3XN Team – Kim Herforth Nielsen, Jan Ammundsen, Audun Opdal, Majbritt Lerche Madsen, Sofia Steffenoni, Eva Hviid-Nielsen, Mihewi Fürstenwald
Engineer: Orbicon|Leif Hansen
Advisors: Hotel Pro Forma, Kollision, DGI Huse & Haller
Website: www.3xn.dk
FALKen (the Falcon) is a cultural building designed with clear reference to the movements and directions of Frederiksberg, a refined neighborhood in Copenhagen, Denmark. The cultural building is shaped by the surrounding urban space and gently adapts to the existing built environment. Thus FALKen is experienced as a natural integrated part of the area and at the same time makes its individual mark within the context of the area.
For more of this project log on to our sister site ARCHISCENE.net.