London's Biggest Drag Fiesta Made a Return With a Playful Spin
The infamous club night returned for its ninth time at Troxy in London last Saturday. Founded in 2008, the name is inspired by the AC/DC single cover art for the song of the same title. "We always say now that Sink The Pink means to have sex," Glyn Fussel [aka GlynFamous], Co-Founder of STP alongside Amy Redmond (aka Amy Zing), says. "It's like your first time. You're a little bit scared and you want to do it, but then you do it and you're screaming the whole night… Then you're hooked." And hooked they were, the event soon outgrew its venues at The Green in Angel, London, and then Bethnal Green Working Men's Club with thousands gagging to get in on the action.
Toys were the plat du jour last Saturday. The crowd embraced the theme with aplomb – a fancy dress that seemed PG at first, soon proved to be anything but. The dance floor was a psychedelic homage to My Little Pony, Trolls and Toy Story, amongst others.
Melanie C Performing at Sink The Pink, photo Jacob Love

Now with a cult following, STP started from humble origins. The birth of the audacious club night could be found in Amy's and Glyn's very own living room. "We decided we were going to throw a Studio 54 party at my house. But I thought Amy was inviting everyone and she thought I was inviting everyone. So it ended up just being me, Amy and Amy's cousin," Glyn recounts. "We'd made the posters, all the different costumes, the shows; it was a production," Amy adds. "But we had the best night. We just stood on chairs for each other and did shows." They weren't going to let anything stop them from having a good time and this ethos continued in their search for the perfect night out in London. After numerous nights out in London fell short short of their wild expectations, the pair sat down and wrote a list of what they look for in a night out. The rest is history.
The event has a star studded fan base. Little Mix, B*Witched, Will Young and Venga Boys have all graced the stage of STP. Last Saturday was no exception. Mel C (Sporty Spice for all you 90s kids) performed to the 3000 strong crowd at The Troxy, singing her classics 'Never Be The Same Again' and 'I Turn to You' alongside some fresh material. But she certainly didn't sing alone – there wasn't a silent queer in the house during her finale.
Not strictly a drag or queer night, STP is a celebration of freedom that allows people to be what they always dreamt to be. As Glyn puts it, "We are everything. The thing that we're playing with is gender and gender norms – it's a massive finger to all of that." Amy shows us it's not just about the boys. She sits down with us to talk all things makeup, sequins and Paul O'Grady.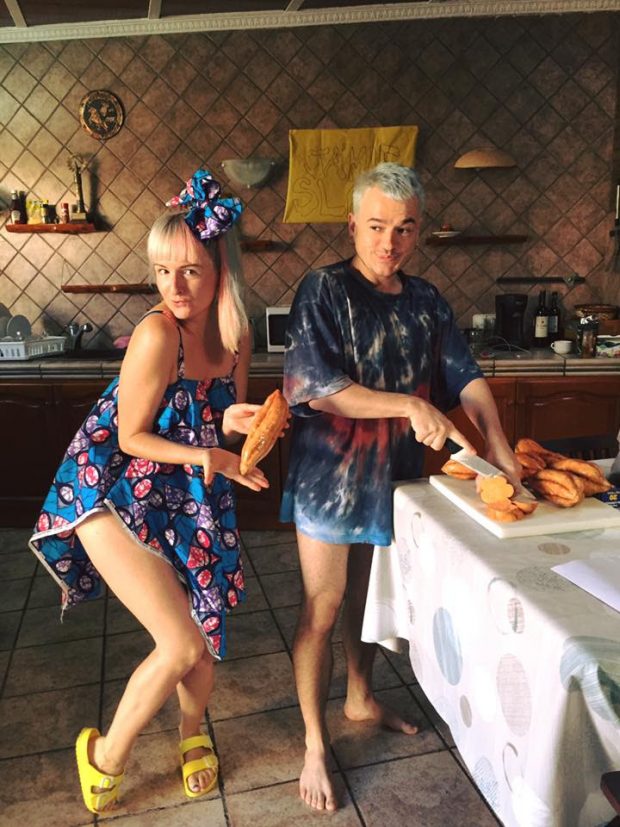 "Just cutting veg with Jacqui Potato [a fellow performer at Sink The Pink] in a dress I made from fabric I got on Ridley Road."
Would you say your drag persona is detached from your offstage self or are they intrinsically linked?
Drag and dressing up is my life, there isn't one and the other. Dregs of drag looks creep into the day and i've happily lost any kind of boundary for what 'normal' fashion would call acceptable! But I definitely come alive at night and the magic of Sink The Pink is that it's a playground of positive vibes and like minded people, who all adore planning ​outfits and celebrating the ridiculous together.
Does your personal day to day style reflect the fact that you are a drag performer?
​Daily, people say to me in the street, "Ooh you're colourful!." I'm used to smiling and chatting about it, because it interests people, this gives me a chance to tell them about drag and potentially open their mind. I think there is a peer pressure within dull cultural "norms" that can take over people, killing their inner child and stripping them back from being true to themselves.
"Just cutting veg with Jacqui Potato [a fellow performer at Sink The Pink] in a dress I made from fabric I got on Ridley Road."
If your life was a song, what would the title be?
​'We Don't Have To Take Our Clothes off' by Jermaine Stewart, but i'd add in the extra lyric 'But We Always Do.' Because I am a BIG fan of nudity. I played a 2 hour DJ set naked at Sink The Pink in the early days, and no one batted an eyelid. It was that or a giant polyester fat suit, so I walked the runway in the fat suit, stripped,​ crowd surfed the fat suit away, then played my set.
Amy with her cousin Jacob.
Favourite song to lip synch to?
​There was a moment at the last ball when Glyn [Glyn Fussel, Co-Founder of Sink The Pink) paid tribute to each person that lost their life at Pulse. Our ball before this had been on the same night and we all woke up free and full of joy from our event and then were devastated for our brothers and sisters in Orlando.​ Glyn said, "We will not be silenced, we will shout louder," just as our DJ Josh happened to press play on Katy Perry 'Roar'. Suddenly 3000 proud queers were singing these lyrics together with so much depth and meaning that there wasn't a dry eye in the house. Every time it comes on I am taken back to that moment and it gives me a special warmth and reminder that creating a safe loving place for our queer community is the most important thing in my life.
Give us one piece of makeup advice.
​If you think you're done, add more.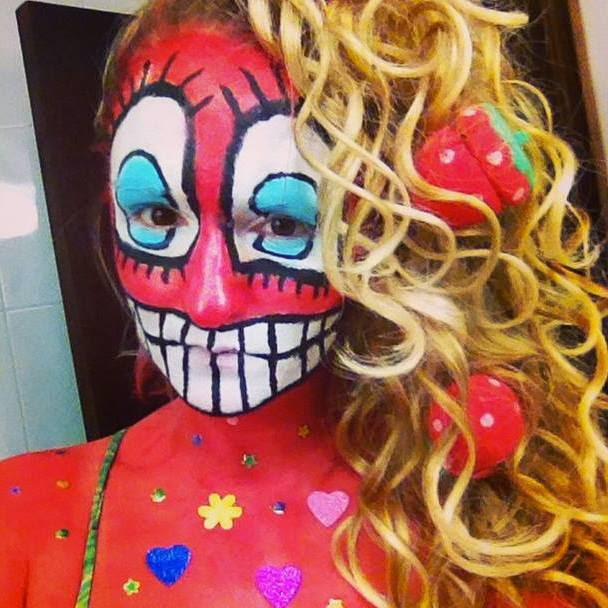 A previous makeup look of Amy's.
When getting ready for a show what is your most essential bit of kit?
​I always have a hot glue gun at the ready. Most things I will have made the week before a show, and none of it travels well, so a hot glue gun will immediately answer your drag prayers!  ​
Tell me about your first drag experience.
My cousin Jacob is like my twin, we grew up so close and we are still best friends.  He came out when we were kids and we went through it all together.  Everything in my life at my core is because I want the best possible world for Jacob.  This translates to every baby gay who comes to Sink The Pink, they come to our event and I want to give them the most fantastical night of their life, because they are somebody's Jacob.
People used to say, "Look at those two pretty girls!"  So from a young age Jacob and I were dressing up together in our (very fashion-forward) Grandmas clothes.  Theres some fabulous pictures of us in drag at all ages, from toddlers to last week!  So my first drag experience I owe to my beautiful cousin Jacob!
Who are your fashion icons?
Iris Apfel, Sue Pollard, Edina Monsoon, Lady Gaga.  I can't think of anyone else my age, for a while every STP look I made and wore, within a month​ Miley Cyrus was wearing it.  We used to all LOL at how her stylist was watching, and then boom, she'd be there again!  My icons are the individuals, wearing it because they're drawn to it, it feels right to them, there's an honesty that you can't force.  I love strong confident colourful older women, they make my heart sing.
What's the best stage name you've heard?
​Jacqui Potato, she wins hands down.​

Lily Savage or Dame Edna?
​Before my time, darling. They're much of a muchness to me.  But they had their place and they paved the way for so many.  I listen to Paul O'Grady on Radio 2 and I love how he has become a normalised queer voice to mainstream Britain.  There is so much to be said for winning over the Daily Mail readers with inane chat about dogs, and his genuine interest and care with callers telling him​ about their dry rot.  He has such humour and grace, proudly representing the LGBT+ community and opening so many minds just through being himself.  It's a massive deal, and I know he did this with his drag expertly too, so Lily.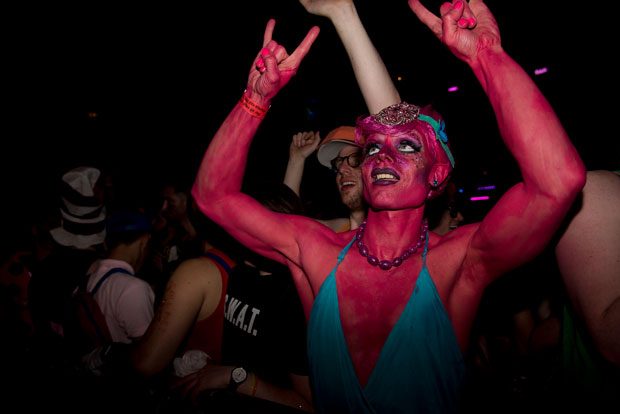 Photo Jacob Love
London has a thriving gay and drag scene. Do you think this has influenced the fashion scene as a whole?
​MASSIVELY!  The interest from the fashion industry in our events is off the scale.  But the drag scene is wider than us obviously, there are legendary nights happening constantly at The Glory, Dalston Superstore, Bethnal Green Working Mens Club, the RVT and so many other places around the country, this can't not influence the UK fashion scene.
It is always a joy to see designers who have come to Sink The Pink get more adventurous with collections and know no limits.  We once walked Jack Irvings collection in the middle of our club night, right after Gaga had worn his metallic 3D sea urchin look.  We walked his whole collection through the club and onto our catwalk.  It was a perfect moment of fashion and club meeting naturally and fabulously!  We also had Piers Atkinson come and shoot his last collection on our queens in the dressing room as they got ready in the natural light as the sunset over Bethnal Green.  My cousin Jacob shot us, and it was again, the most natural dreamy fashion meets club situation.  Oh and it works both ways!  I will never stop loving Ashish, and what Jeremy Scott has done for Moschino, the last bin bags and bin lid looks were J'DIE!
London is a very liberal city. Does this give you the opportunity to express your creativity at a deeper level?
​There's a freedom we have been allowed on these streets that gives us power.  Power to inspire the rest of the world.  Something happens in a club space where like minded people united gather strength that goes beyond the club and empowers, so wider changes feel more possible.  Positive change is possible.  Walking down a street with 10 drag queens, or sitting on a bus with a crew of club kids is very uniquely London.  I am so proud of this city and our part in its drag and club scene​, long may it last!  I recently spoke on a panel with our Night Czar Amy Lame, who is freaking awesome.  She told some hard truths about so many London clubs being closed down, but reminded us we can make a difference, we can talk to our councils, support clubs and keep our nightlife the best in the world.  We want every young queer person to feel they can move here and express their creativity however they please, so go out and support your local drag club please!
Photo Jacob Love
Melania Trump or Theresa May?
​Oh FFS, don't even go there, babes.​
Feathers or sequins?
​SEQUINS ERRDAY.​
Diamonds or pearls?
​If I choose the Dalston market kind can I have both?  My fave jewellery has a faux Chanel logo, too much bling and costs under £5, thank you please.​
Why do you think Sink The Pink is so popular?
Demand for tickets is at an all time high and huge names are begging to be on our guestlist​, it's insane!​ A very silly party, created as a fingers up to fashion conventions and clubbing norms​, its utterly hilarious to us how popular it's got!  I see why theres a constant interest though.  The queer community are like fabulous cockroaches, you can't hold these bitches down!  If you want to party, you want to party with Sink The Pink.  If you want to dress up to extremes you do it at Sink The Pink.  Its reputation proceeds it.  We have been throwing consistently insane parties for almost ten years, and word of mouth is the greatest promoter!  The proof is in the party, we have created it and now the audience live it for us too.  We are one big family​,​ you step in those doors and you are in the family too.
Photo Jacob Love 
What has been your favourite Sink The Pink ball to date?

​The Little Mix ball was awesome.  Those girls are massive
STP
fans so it was all natural, easy and fun.  We have a saying at
STP
, "Nothing needs to be hard except willies". The best nights are when everything is smooth and enjoyable, everyone wins.
How have you interpreted this ball's theme of Toys?
​Most of my outfits involve a trip to my favourite charity shop Cats In Crisis. They always have something I can make into a look!​  Plus, I get to support the cats.  I believe massively in recycling fashion, and that there is too much throw away Primark sh*t in the world.  We need to calm our addiction for having 20 badly made throwaway jackets and revert to having one well made one.  ANYWAY!  I channelled Toys by making a skirt from a childs Pepper Pig curtain and a hula hoop, over an Adventure Time swimsuit with American football shoulder pads with toys glue gunned all over it.  And a massive troll doll on my head.  I am the TOY BOX that can't say no!
What would your ideal theme for a ball be?
​Glyn is the master of deciding themes, he's chosen some corkers in his time.   One of my favourites was the last ball SHOWTIME, we all got to be Showgirls in sequins.  Fortunately there was a closing down sale in the best sequin shop in London Taurus Fashions at the same time, so we all​ went wild in the isles!  Fear not drag fans, they still sell, but online now.
Any last words?
​You can never have too many spanx, good quality lipsticks or statement headpieces that also keep a big wig on.​
Don't miss STP's future event with live music from Mighty Hoopla. Years & Years, All Saints, Sophie Ellis-Bextor, Charlotte Church, and more have already confirmed to perform at Victoria Park in London on the 4th June. Tickets are on sale now at www.ticketweb.co.uk
Interview and words by C Maul.