After having shown his sixth show during New York Fashion Week, our Berlin Contributing Editor SUSSAN ZECK got the chance to meet German designer MARCEL OSTERTAG for an exclusive interview. Sussan talks with Marcel about his new collection, fashion weeks in Berlin and New York as well as sustainable fashion.
After having studied at renowned Central Saint Martins College of Art and Design in London, he founded his eponymous label in 2006. Nowadays, his fashion stands for idealistic values, sustainable productions, highest quality fabrics and fair production conditions. His Spring Summer 2019 collection titled "Muse", which has been shown in July during Mercedes- Benz Fashion Week Berlin and on the 12th of September 2018 in New York, is a dedication to all the contemporary muses in his life: it can be understood as an ode to women who inspire the designer every day. Strong, sophisticated, free-spirited. These women chase their dreams, they shine because of their personality and attitude towards life and consumption-which means they support sustainability. Logically, the creations of this collection can be understood as a pure jollification and of a celebration of life in all its facets. Worth of mentioning is the fact this is his first line that also contains menswear pieces. Various pieces are kept in rainbow colours, a clear symbol for tolerance, freedom, awakening, change and peace. In addition to that rainbow topic, his colour choice is a multifarious, refreshing one, like a rainbow full of bright, vibrant, eye-popping hues. Inspirations from the free-spirited '70s clearly shine through. This collection is encouraging all those who need love and hope. In our fast-living times, where trends come and go, the intention of this collection certainly made us think twice.
The strong message behind this collection and its appeal to more tolerance and sustainability definitely deserve devotion and thus, we were eagerly awaiting to get to know some insights about the designer and his work.
You named your Spring Summer 2019 collection "Muse". How did you get the idea to choose that topic?
I wanted to say thank you to all my fans, clients and fashionistas for being at my side for 12 years. The Muse collection captures all my feelings. My muses are such an inspiration.
What defines a modern muse for you?
For me the modern muse is sophisticated, and a little eccentric. When it comes to my collections I love polished and elegant looks.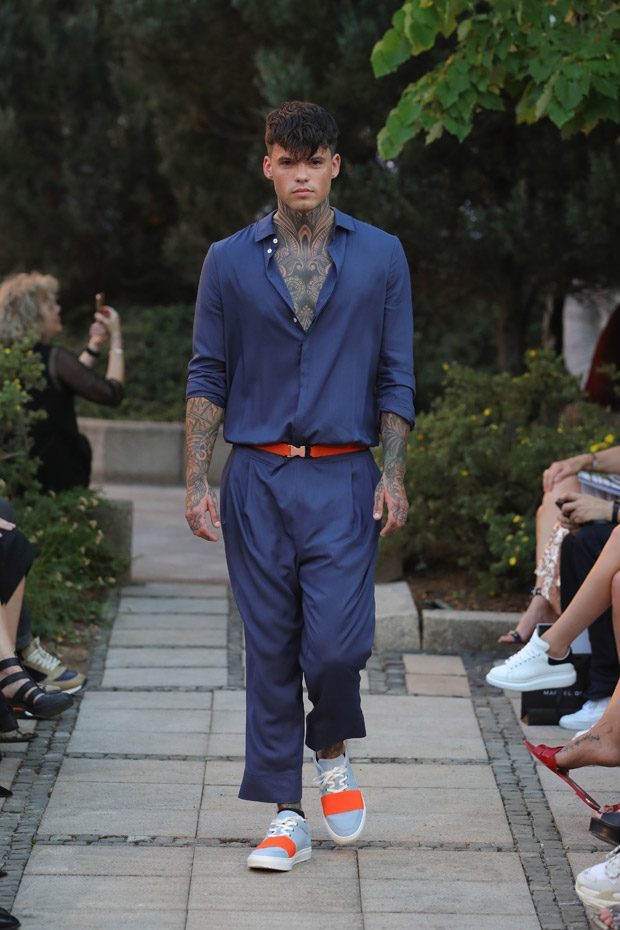 Menswear look from Marcel Ostertag Spring Summer 2019 collection
Which are the modern muses that inspire your daily life?
I am inspired by my brand manager Julia Gockeln, but also all my clients and for sure my mum.
What is the best advice you have ever received?
Stay as you are. Down to earth and the heart at the right spot.

Which of your favourite looks from the new collections should we keep an eye on? 
I am in love with the rainbow summer cashmere sweaters from the Spring Summer 2019 collection.
In our fast-living times, you also invoked your audience to focus on sustainability. What can each customer do to support this idea?  
All of us can work on shopping well thought pieces, exclusive designers and vintage. Try to shop for timeless garments which you can wear for many seasons to come.
How did you dress your modern muses for the next summer?
I brought lot of light, colour and kept it playful. Summer fashion should be made fun and look stunning and fresh.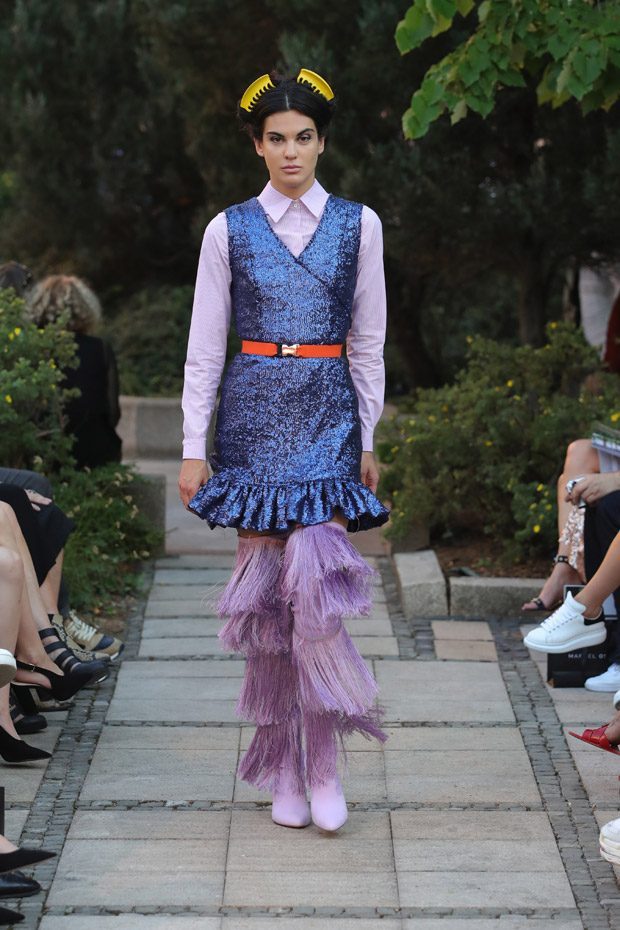 Womenswear look from Marcel Ostertag Spring Summer 2019 
What is the most beautiful compliment you have ever received?
A really nice customer once told me that my collection changed her complete life. She gained self-confidence by wearing my designs. Fashion is not just a surface, it's something deep which can change lives.
You are participating regularly at New York Fashion Week as well as Mercedes-Benz Fashion Week Berlin. Can you describe what makes the Fashion Weeks in those cities so special and which are the moments that are unforgettable for you?
Berlin is our home base and really important for us to support as a German brand. We are part of the Berlin Fashion Week since 2007, so quite a while. New York is the place to be when it comes to runway shows at the right time in the fashion calendar. The big apple is always inspiring.

How important is it for you to come to rest and how do you come to rest?
I try to go on a cleansing retreat once a year with my dog in the mountains. The rest of the year mostly short trips. I am in love with Portugal. Lisbon, Porto and Faro are such flamboyant hotspots.
If you could live in any of the past decades, which would you choose, and why?
I would love to have lived in the seventies [laughs], be wild, sexy and free-spirited.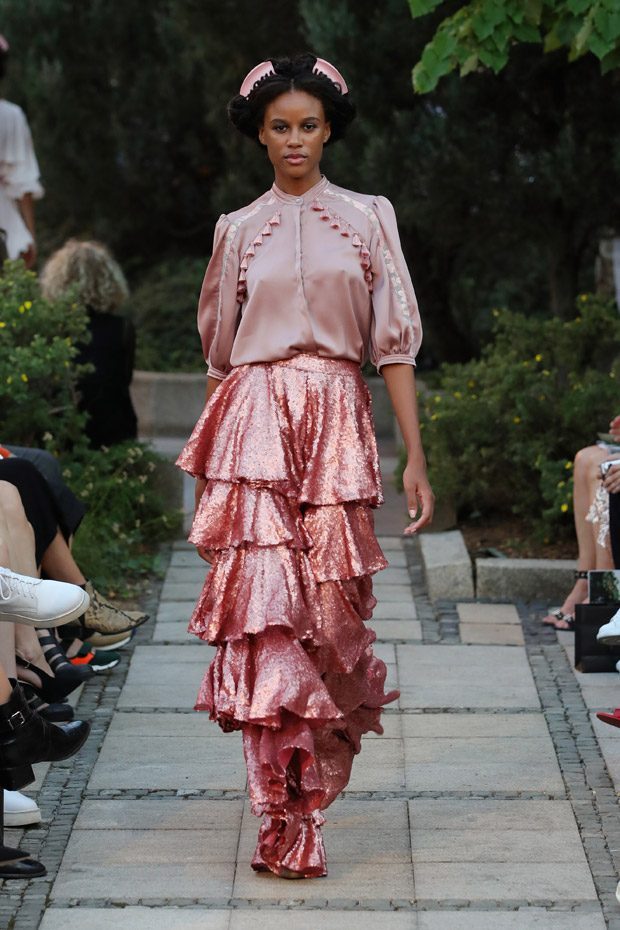 Womenswear Spring Summer 2019 look presented at Mercedez Benz Berlin Fashion Week – discover the full collection.
Any favourite quote?
Quality over quantity!
The appeal to more tolerance and sustainability definitely deserves devotion, and so does Marcel Ostertag's bright, joyful, vibrant collection made of finest fabrics and full of detail-awareness. The message we learnt from the designer and the modern muses that wear this compelling collection is the consumer behavior. Every consumer can contribute to improve production circumstances and standards. We thank Marcel Ostertag's for his drive to focus on this topic which is so important nowadays.
Keep up with Ostertag and his latest collection on Instagram @marcelostertag