Athens based Couture Designer CELIA KRITHARIOTI has mesmerized the fashion scene as well as the red carpet with her eye-catching gowns and fairy tale like bridal designs. Celia sits down with our Editor KATARINA DJORIC to talk about the craft behind haute couture, but also her hometown Athens and future plans.
Read more after the jump: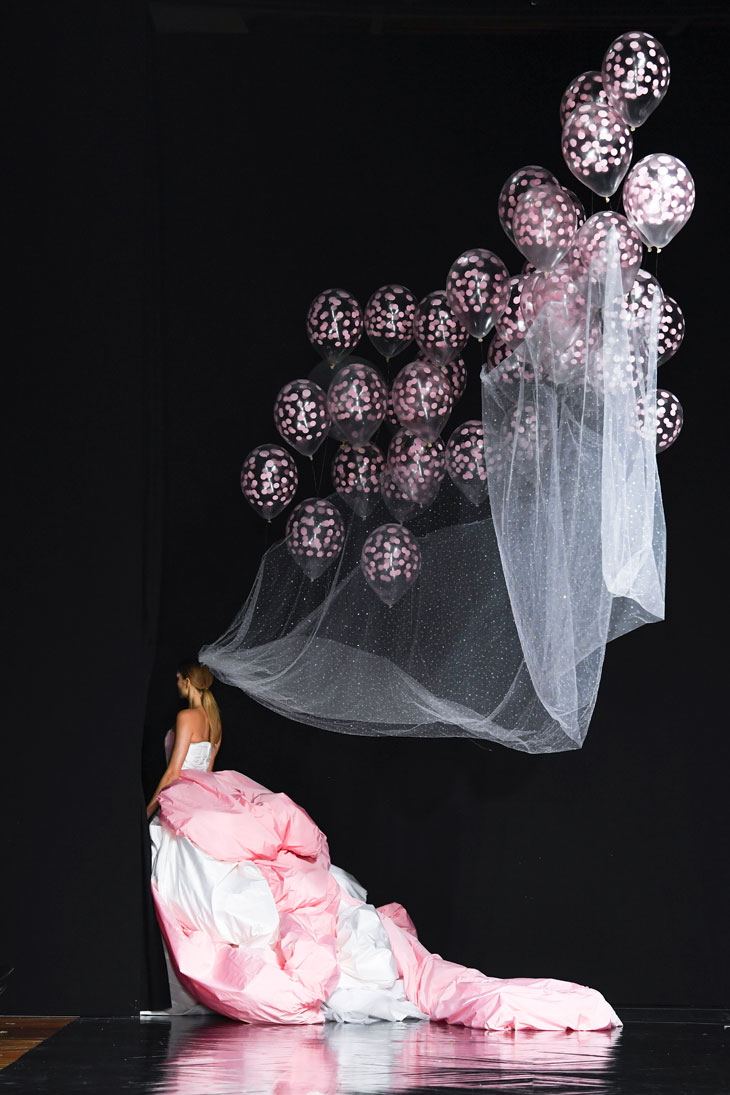 Celia Kritharioti SS19 Collection / Courtesy of ©Celia Kritharioti
Have you always wanted to be a fashion designer? Where and when did you start designing?
I was fortunate enough to be born in a family that runs a business related to fashion. So, since I was a little girl, I remember myself being surrounded by seamstresses, fabrics, beads and embroiderers. We used to travel every season to Paris for Chanel, Dior, Balmain and other shows, which at the time were presented in-house. However I started studying Business and Economics when I turned 18, nevertheless after my business studies it came as a natural decision to design for our Fashion House. The oldest Couture House in Athens, which was founded in 1904 by my family.
Why did you choose to do haute couture?
I firmly believe that Couture is a form of art that is demanding and also quite rewarding. You work on the designs by hand for hours and hours using delicate materials such as lace made of crystals to create something that will make someone's life better, or at least prettier.
How do you see the place of haute couture in the world where fast fashion dominates?
As years pass by and high-end brands tend to present more and more collections working on tight schedules. Couture has always and always will need time – from rehearsals, to embroidery and embellishment, to create a perfect dress that looks as if it hasn't been created by human. The true value of Couture will never change.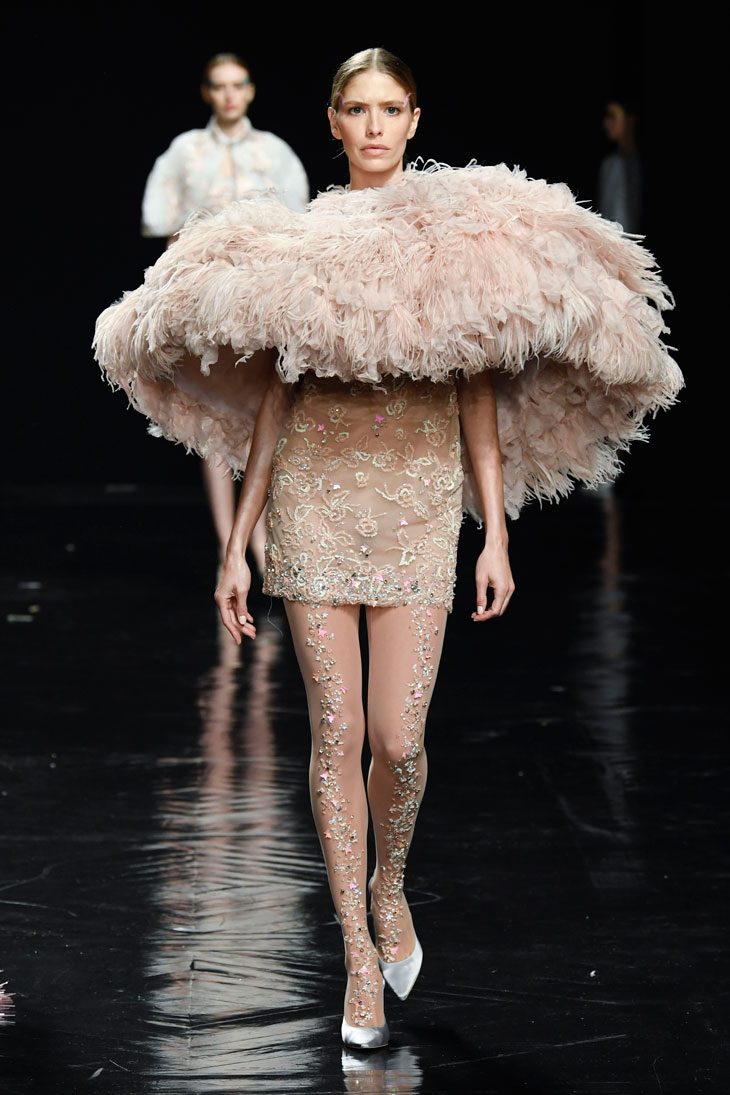 Celia Kritharioti SS19 Collection / Courtesy of ©Celia Kritharioti
Being an Athens native, are there specific places in the area you go to to get inspired?
We are blessed enough to live in a city, a country, where inspiration is all around us – from ancient cites to nature and people. Celia Kritharioti Fashion House is located in Plaka, the so called "neighbourhood of Gods", which is a great means of inspiration just to walk around Acropolis and other monuments.
Could you describe your design process to our readers?
It all begins with inspiration, either I prepare a creation for a show or a client. Then, using the technique of moulage, I create in real time on a mannequin, folding fabrics, rehearsing, changing, embroidering, embellishing, working close with my team of seamstresses. This is the most creative part of my work: to make a creation out of unlimited choices of fabrics, shapes, embroideries.
You've already had Jennifer Lopez, Lady Gaga, Kim Kardashian, Gwyneth Paltrow, Heidi Klum wearing your design. Who would you like to see next?
I am humbled by the acceptance my creations and my vision enjoy. I certainly do have some ladies that I envision wearing my creations but let time surprise us!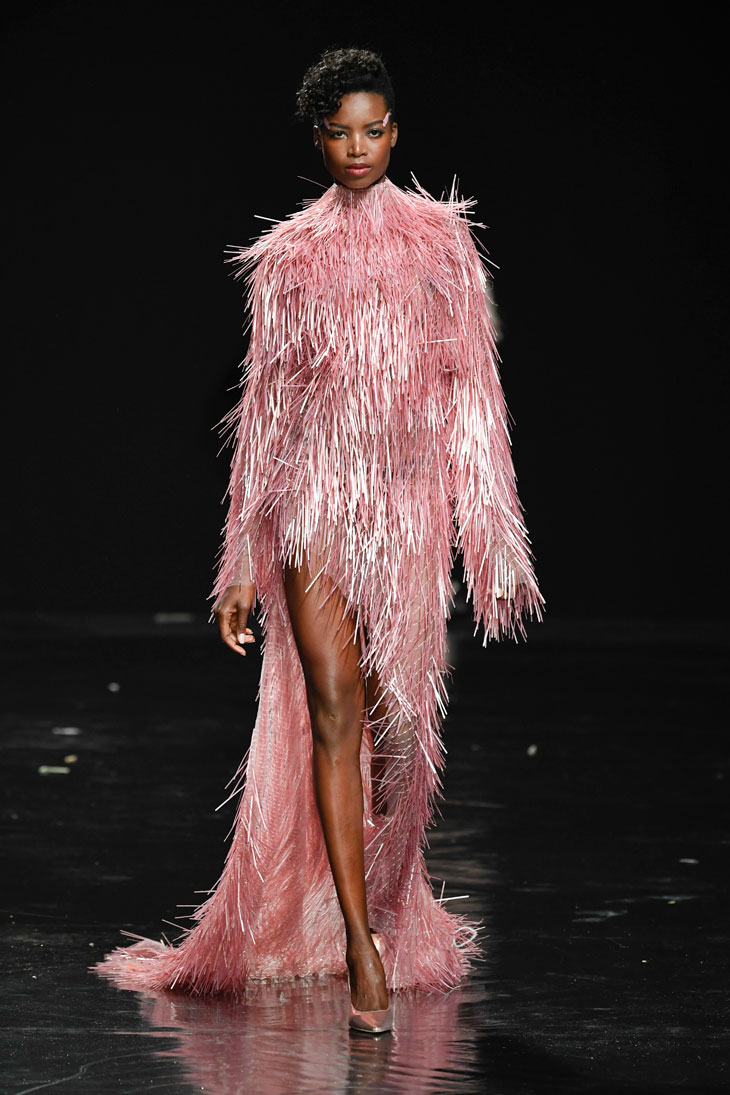 Celia Kritharioti SS19 Collection / Courtesy of ©Celia Kritharioti
Do you have particular pieces you enjoy designing and making more than others?
There are no barriers to creativity. Whether it is my Pret a porter collection "5226" or my Christening or Couture Collection, I always enjoy the process. I especially enjoy Celia Kritharioti Bridal Collection because of the special cause – I have to create a gown for the most special day o woman and make her look as beautiful as she may be.
How do you balance the career with your private life?
Being a mother of three is always a challenge, this is why my family is always my first priority.
What has been the highlight of your career so far?
I am lucky enough to have experienced many, of what I think were, highlights but I cannot forget the first time I presented a collection in Paris in January 2017.
What are your plans for the future?
For the time being, I am in the process of preparing my Autumn Winter 2019 Collection which will be presented during Paris Fashion Week in July.
For more of Celia Kritharioti's magical world follow her on Instagram @celiakritharioti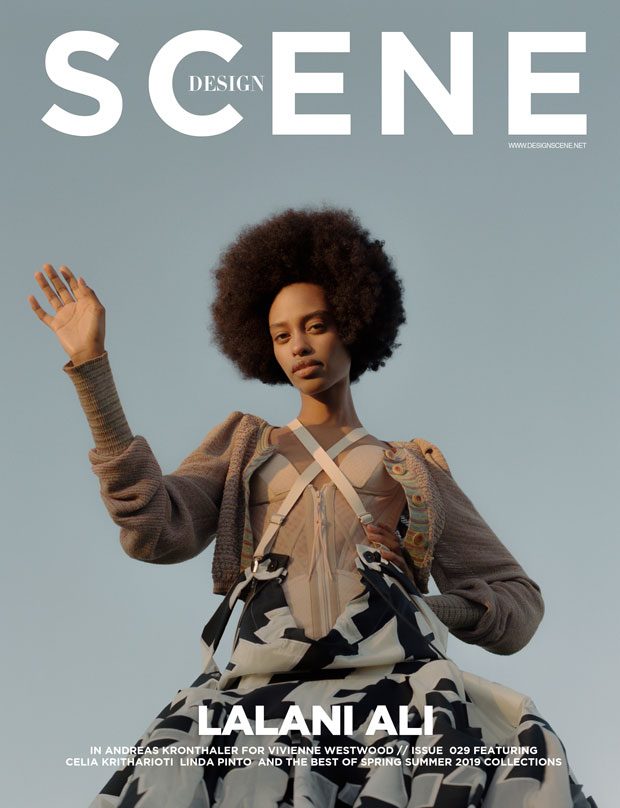 Available now in print & digital.