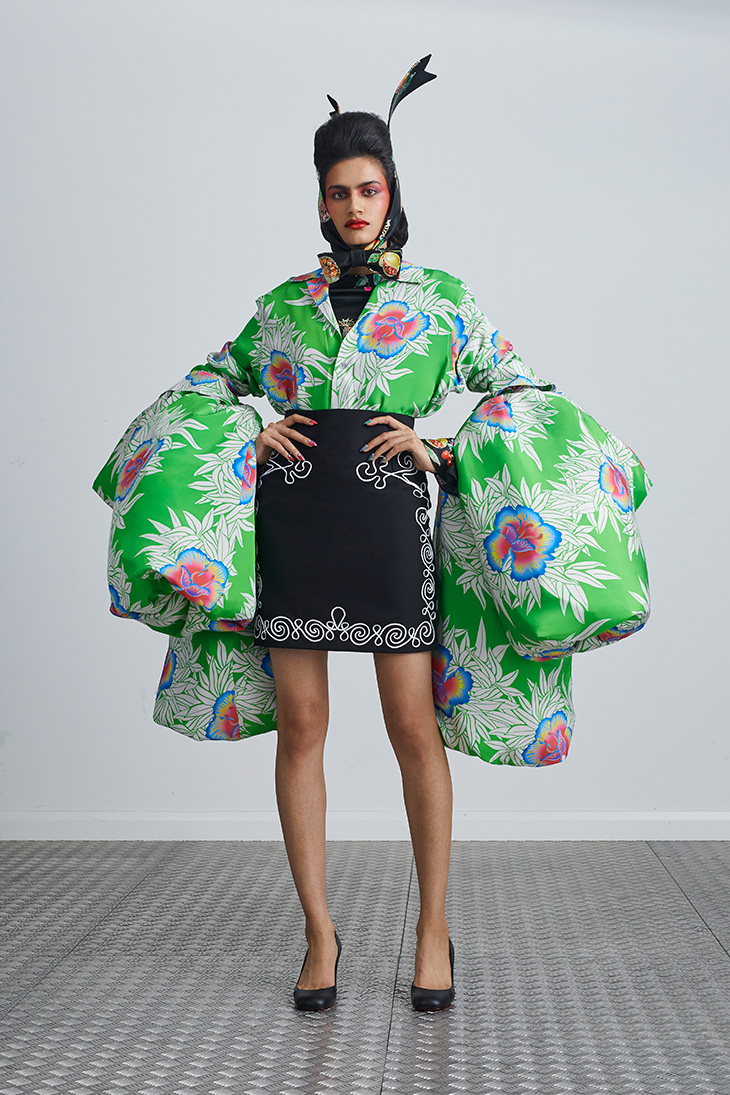 London Fashion Week is kicking of another season with a mix of digital and physical show – designed Edward Crutchley has presented his Spring Summer 2021 via a just released lookbook.
Crutchley was inspired for the coming year's collection female Yakuza bosses in Hideo's Gosha's 1986 film Gokudô no Onna-tachi.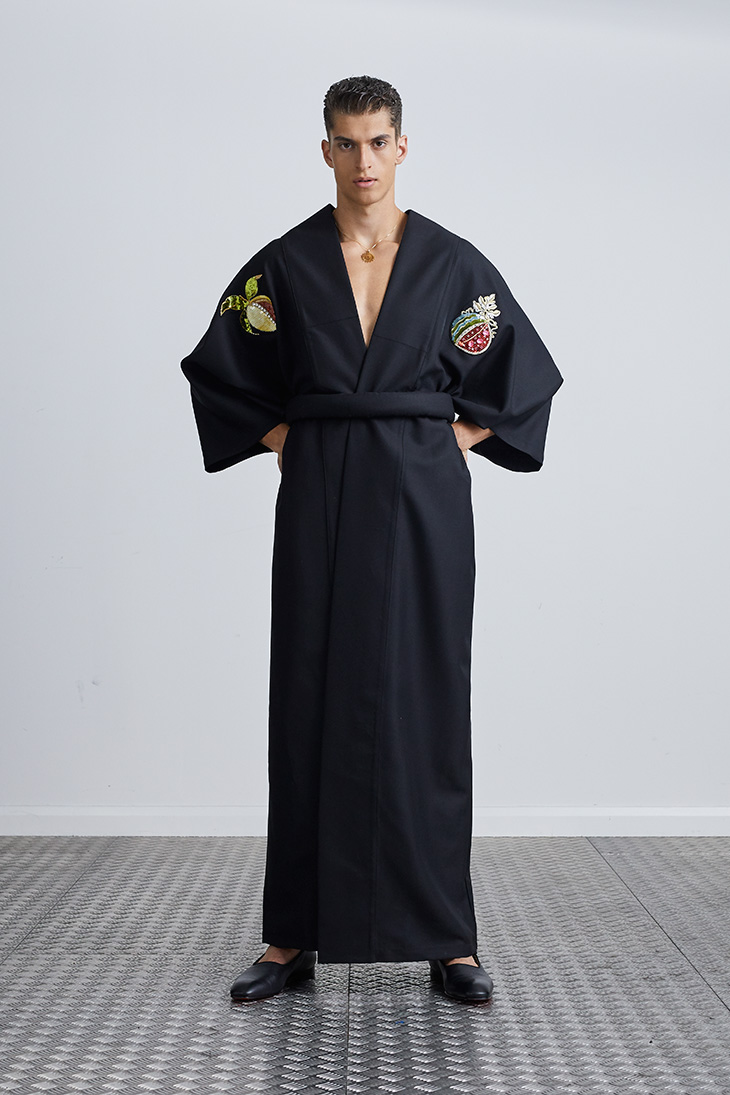 Discover more of the collection + plus the official collection notes: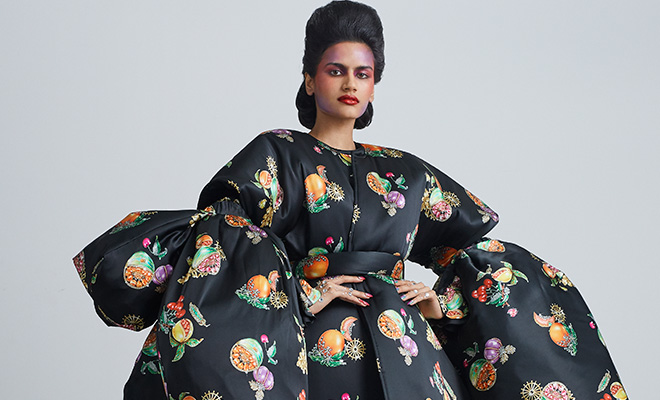 The clothes have the unruffled confidence of corporate casual in their cut: for men it is easy pyjama collar shirts, cropped trousers, two-button blazers worn with double pleat Bermudas or boxers. Regal, full-length Ottoman court kaftans and padded belts. Womenswear includes 18th Century lace cuff frills, hyper-exagerrated flounces and sarong-inspired draped pencil skirts.
Footloose tailoring is offered in a triage of stalwart British fabrics: elegant houndstooth, refined Prince of Wales check and an exploded hingham with Jaspé yarn highlight. The formal riffs on the frivolous. Continuous ribbon stitching inspired by Mariachi jackets and Irish dancing dresses frolics around the hem and lapel of classic tailored two-button jackets and on-piece-cut robes. Sequin and rhinestone lemons and oranges are appliqué onto the front of neat collared shirts and jackets. A Rocco rosary ribbon print is reworked from a vintage Japanese Kabuki costume and renewed with the signature EC logo wheel, which also features as a repeat metallic hand-foil pattern.
Inspired by opulent antique costume jewellery, polished burst jewel fruit and insects appear almost airbrushed into reality in repeat prints. A fecund graphic magnolia design – a reworking of a pattern debuted for SS17 – is on fresh, fluid silk morocain. The original derives from a 1930s art school project kimono, for which students were tasked with reinterpreting traditional Japanese motifs in an Art Deco style. It is also applied onto a pink lurex and white silk Jacquard base using an AI guided technique.
Hawaiian of 'Aloha' shirts have been a staple of Crutchley's collections since his debut in 2015. Japanese and Chinese sewers, tailors and dressmakers established the tradition of using Asian textiles tomato island clothing for the influx of American tourists visiting Waikiki in the 1930s – the meeting fo cultures if endorsed through Crutchley's own practice of marrying global craftsmanship with British textile heritage.
With usual panache, Stephen Jones has translated the floating ribbons of Chinese temple guardian status into a towering bow that rests high on the top of the head or worn wrapped around the chin, as if defying gravity.
Completing the look are scoop-fronted pumps or flat patent slippers by Christian Louboutin, EC logo earrings with dégradé cascades of rhinestones and fruit ear cuffs – and, naturally, the iconic fruit minaudière, borrowed from the Judith Leiber archives.
Words by Dal Chodha
Styling: Julian Ganio
Casting: Sophie Lynas at Leda Casting
Hats in collaboration with Stephen Jones
Shoes in collaboration with Christian Louboutin
Bags by Judith Leiber
Jewellery in collaboration with Gianluigi Zoccheddu and Victoria Rickard
Hair: Kota Suiza at Caren
Makeup: Michelle Dacillo
Nails: Marie-Louise Carter using Luella Belle and Artistic Nail Design
Stills Photography: Francisco Gomez de Villaboa
With thanks to Yang JinDian, Karen Coughlan and John Handford, Ata and Salients at TRUK 1609, James and team at James Bosley Studio, Andrew and team at The London Embroidery Studio, Caren, Vicky and all at Caren Agency.