Salvatore Ferragamo is back with Spring Summer 2021 men's and women's collections by Paul Andrew. The designer during his time in lockdown found inspiration in classic Hitchcock movies. Andrew has shared with the press:
This spring, stuck at home, I rewatched classic Hitchcock, in particular Marnie, The Birds and Vertigo. In the past, watching those movies has always felt like inhabiting a surreal and strange world. But watching them during lockdown was different: they felt like "real life" because "real life" itself had suddenly become so strange, surreal and oddly beautiful. There are several direct homages to key Hitchcock moments in the collection, and the collection echoes that gorgeous, hyper-real level of colour saturation that is so evident in the beautiful Technicolor masterpiece that is Vertigo.
The collection presented last night in Milano during the fashion week featured 32 looks. Preceding the open air (limited audience) runway show was the masterfully captured short film by Italian film-master Luca Guadagnino. The short film features supermodel Mariacarla Boscono in a suspense driven walk around Milano, the film was entirely captured in Technicolor with a nod to Hitchcock. Colours so inherent to the big screen have inspired Paul Andrew while creating the collection.
For his colour palette this season Paul Andrew included Hedren Green, Vertigo Mauve, Technicolor Yellow, Lobster Mousse, and Bodega Bay Sky. The colours are aligned against Gull Grey, Sparrow and Hitchcock Tan.
Ferragamo also known for it's bags has a new addition to the family this season. The resized Studio bag as well as the newly top handled Trifolio. For spring 2021 joining the family is also an entirely new bag shape (worn in look 1 above) whose design was inspired by a key scene in Hitchcock's Marnie.
When it comes to shoes standing out in the collection, SS21 features a square-toed slingback, as well as two reimagined versions of the F-wedge. WIth men's footwear we have on the display the new mono colour Gancini driving shoe.
Don't miss the striking short film by Luca Guadagnino in the stream embed above, for images of all the Salvatore Ferragamo Spring Summer 2021 looks continue to our gallery: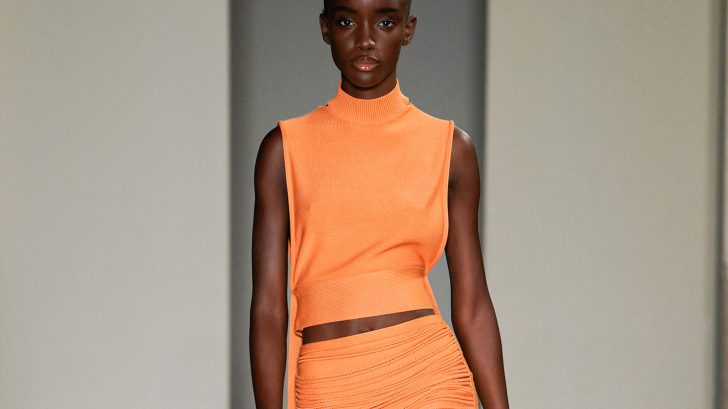 Models: Abby Champion, Amar Akway, Braien Vaiksaar, Daan Duez, Grace Clover, He Cong, Isabel Monsees, Jeranimo van Russel, Joan Smalls, Jonas Glöer, Kerolyn Soares, Kiki Willems, Lulu Tenney, Maggie Cheng, Malick Bodian, Malika Louback, Mariacarla Boscono, Maty Fall, Maud Hoevelaken, Mika Schneider, Miriam Sanchez, Nour Rizk, Ottawa Kwami, Pablo Fernandez, Paloma Elsesser, Rachel Marx, Samer Rahma, Sculy Mejia, Simon Martyn, Tak Bengana, Vilma Sjöberg, Xu Meen
The spring summer 2021 runway show with limited guests did have a few VIPs joining Designer Paul Andrew during the fashion show: