Burberry is a high end fashion house based in London. Established by Thomas Burberry, the fashion brand is an embodiment of high quality clothing, fragrances, eyewear, cosmetics, and accessories. Thomas Burberry was an apprentice in a local draper's shop before opening a store, founding the company in 1856.
He made the business's first trench coat using the material Gabardine. An innovation of his, Gabardine is a strong, firm, durable material that withstands extreme weather conditions. This trench coat revolutionized rainwear, which had not been comfortable to wear by polar explorers. Today the trench coat is a staple on the runway and is constantly reimagined in various fabrics, patterns, and prints.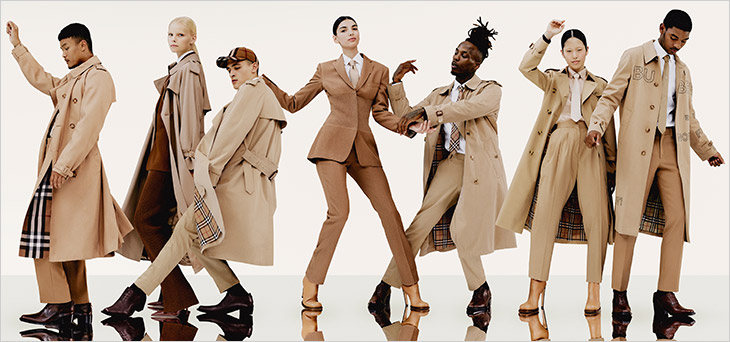 Target Market
Its trademark being the check pattern and trench coat, the company has grown from offering not just comfort but also style. Burberry clothing is made from high quality materials, bold prints, crisp fabrics, and modern cool apparel. It is considered a top British brand due to its emphasis on quality designs and fabrics.
The luxury brand has both men and women collections. Its main target customer is the woman with a high disposable income.  The fashion brand also designs children's wear. Burberry is keen on exceeding its customer expectations, which has made it retain its customers and maintain its market share.
Runway Projects
Part of their collections is their runway projects dubbed ''see now buy now''. The high fashion runway collections designs are twice yearly projects, produced by the Burberry London studio. The company's campaigns feature models, actors, and musicians; this is in an attempt to grow British talent.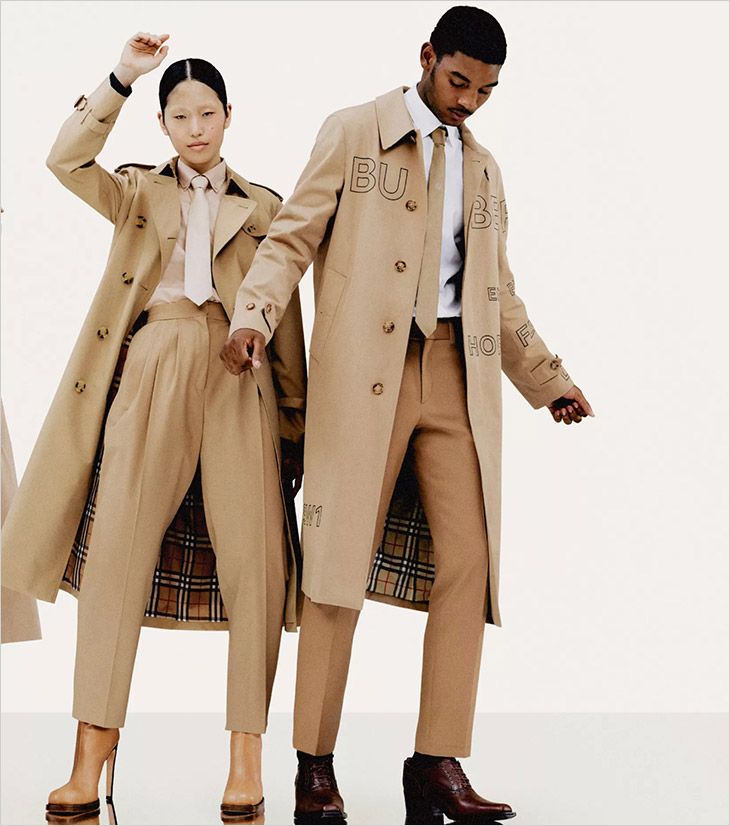 Other Projects
The fashion house is key to sustainability. The ReBurberry fabric project aims at providing quality fabrics to fashion students who do not have access. As part of their corporate responsibility, they are keen on providing materials to these students and their communities to ensure growth and creativity in the fashion industry and provide a blueprint for other brands and institutions to provide support for talented future designers.
Burberry is keen on community growth. The company has also donated to the research of the Covid-19 vaccine. It has also used its supply chain to deliver surgical masks and manufactured non-surgical gowns and masks.
Technology
A technologically innovative company, Burberry, has shown considerable digital growth. It has a concept store in China dubbed the 'Social Retail' experience. The collaboration with Chinese technology giant TenCent enhances customer interaction with its products online. The company has also premiered collections on social media and is also keen on enhancing online sales by getting its clothing catalog on Fartechs global platform. Despite having established stores and specialty retailers, Burberry aims at E commerce growth.
Burberry keeps at it. Its growth in the fashion industry and expansion to other sectors like the stock market shows a company that does not just stop but is consistent and keen on growing. Great mentorship for fashion business start-ups and a true testament to the revolutionary Thomas Burberry's dedication to innovation, business, and the enhancement of his craft.