Luxury house LOUIS VUITTON presented their Spring Summer 2022 Capucines Handbags Collection with a campaign starring actress and the brand's ambassador Léa Seydoux lensed at the Musée de l'Orangerie by fashion photographer Steven Meisel. For the season Capucines bags, that blend elegance, femininity and savoir-faire, are reimagined in a new pastel colorblock in a soft cream and delicate yellow.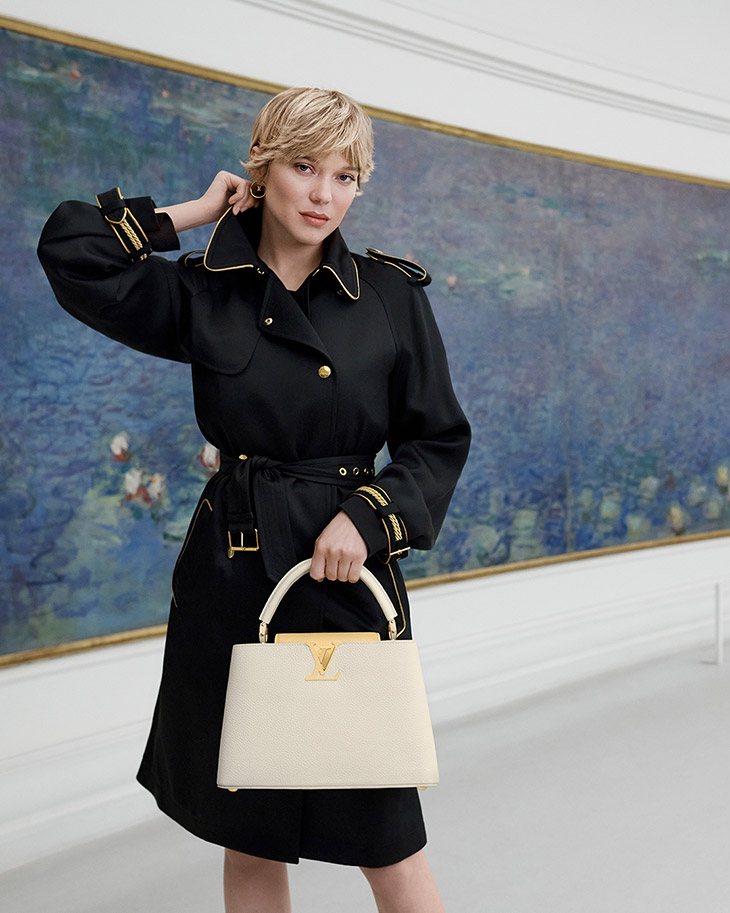 For the new handbag session Louis Vuitton secured one of the most iconic museum spaces in Paris. The iconic Musée de l'Orangerie home to the large-scale Waterlilies series by Impressionist Claude Monet. The artist created the series especially for the oval shaped spaces within the l'Orangerie envisioned as a special meditation room within the space. Today in addition to the Monet's meditation rooms the building, in the west corner of the Tuileries Gardens next to the Place de la Concorde in Paris , is also home to some of the most iconic works from the impressionist as well as post-impressionist era.
The museum is a must see destination in Paris, open throughout the year the space still inspired thousands of visitors every year.
The Louis Vuitton Capucines bag is today one of the most popular handbag styles by the French Fashion house. Its understated lines are a favourite among shoppers making the bag one of the best sellers on the handmarket. The style varies in sizes, yet getting a new Louis Vuitton Capucines bag may cost you roughly from 4400USD to even 6050USD, depending on the size and the edition of the bag. Léa Seydoux is the ongoing face of the brand, last year she took part in the videos promoting the bag including the production videos of the same.
For many bag collectors LV Capucines is considered also a good investment due to the fact the price of the bag is steady for years since its initial release. Louis Vuitton is also expected to invest in the production and promotion of the bag for seasons to come.