Camera Nazionale della Moda Italiana has unveiled the final calendar for Milano Men's Fashion Week Spring Summer 2024 collections. A total of 79 appointments await fashion professionals during the upcoming MFW men's, including 27 fashion shows with 5 being presented digitally, 36 presentations with 4 available by appointment, and 16 exciting events. The fashion shows, presentations, and physical events are scheduled to take place from Friday 16 to Tuesday 19 June, while Tuesday 20 June will be exclusively dedicated to digital content.
Milan Fashion Week Men's is set to commence on June 16 at 2 p.m. with the highly anticipated Valentino fashion show, marking the return of the Valentino The Narratives Collection to Milan. The physical fashion show calendar will come to a close with ZEGNA on Monday, June 19 at 2 p.m. This year's calendar will feature exciting debuts, including the runway debut of Andersson Bell and presentations by Cavia, Maccapani, Maison Laponte, Mcm, Skin of Nature, and the recipients of the Camera Moda Fashion Trust Grant 2023, Marcello Pipitone – Bonola and Setchu. Neil Barrett will be making a comeback to the fashion show calendar, while Ralph Lauren Purple Label and Paul&Shark will return to the presentation calendar. On Tuesday, June 20, the focus will shift to digital content presented on the CNMI platform. Brands such as Carnet-Archive, Gams Note, Maragno, and Uni Form will make their digital debut on the calendar. A press conference for the CNMI Sustainable Fashion Awards 2023 will be held on Monday, June 19 at 3.00 pm in Teatro alla Scala, providing an opportunity to present this esteemed event.
To ensure wider accessibility, all fashion shows will be available for streaming on www.milanofashionweek.cameramoda.it, the digital platform of the Camera Nazionale della Moda Italiana. The platform will also provide videos and photos of the collections from all participating brands. Additionally, visitors can download the calendar of sales campaigns from the Showroom Area, complete with showroom contacts for scheduling appointments.
Friday 16 June
14:00 VALENTINO, VIA FESTA DEL PERDONO, 7
14:30/17:30 MACCAPANI, VIALE G. DA CERMENATE, 18 – Presentation
15:00/19:00 LARDINI, V.LE E. ALEMAGNA, 6 – Presentation
15:00/20:00 BRUNELLO CUCINELLI, VIALE MONTELLO, 16 – Presentation
17:00/20:00 RALPH LAUREN PURPLE LABEL, VIA SAN BARNABA, 27 – Presentation
18:00/22:00 GUCCI, VIA ACHILLE MAIOCCHI, 5/7 – Presentation
18:00 BILLIONAIRE, VIA GESÙ, 6/8
18:30/21:30 SKIN OF NATURE, VIA VALTELLINA, 7 – Presentation
19:00 1017 ALYX 9SM, VIA VENTURA, 14
20:30 DSQUARED2, VIA PERIN DEL VAGA, 2
Saturday 17 June
09:00/17:30 BRIONI, VIA VITTOR PISANI, 2 – Presentation
10:00/18:00 TEN C, VIA UBERTI, 6 – Presentation
10:00/18:00 MARCELLO PIPITONE – BONOLA, VIA E. TAZZOLI, 3 – Presentation
10:30 MSGM, VIA F. APORTI, 19
11:00/15:00 SETCHU, VIA BOVISASCA, 87 – Presentation
11:00/18:00 WOOLRICH, VIA E. LOMBARDINI, 18 – Presentation
12:30 DOLCE & GABBANA, VIALE PIAVE, 24
14:00/18:00 PAL ZILERI, VIA VERRI, 8 – Presentation
14:00/19:00 HARMONT & BLAINE, VIA TORTONA, 37 – Presentation
15:00/18:00 BRETT JOHNSON, VIA MANZONI, 38 – Presentation
15:00 NEIL BARRETT, VIA CERESIO, 7
16:00/20:30 CORNELIANI, VIA DURINI, 24 – Presentation
16:00 FEDERICO CINA, VIA COLICO, 21
18:00 JORDANLUCA, VIA TORTONA, 27
18:30/21:30 BONSAI, VIA FERRANTE APORTI, 25 – Presentation
19:00 EMPORIO ARMANI, VIA BERGOGNONE, 59
19:30/21:30 KITON, VIA CLERICI, 5 – Presentation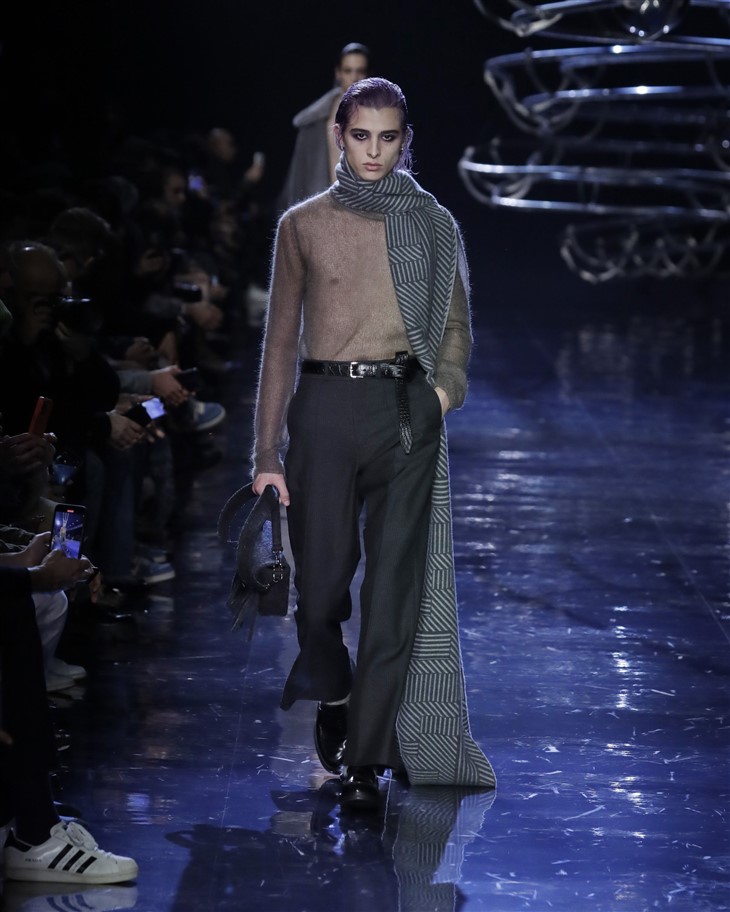 Sunday 18 June
10:00/14:00 SANTONI, VIA SENATO, 14 – Presentation
10:00/15:30 ALTEA, VIA A. MAFFEI, 14 – Presentation
10:00/19:00 MCM, C.SO VENEZIA, 51 – Presentation
10:00 SIMON CRACKER, VIA BERGAMO, 14
11:00/15:00 CAVIA, VIA PIRANESI, 4 – Presentation
11:00 MAGLIANO, VIA PIRANESI, 14
12:00/16:00 ELEVENTY, VIA DELLA SPIGA, 7 – Presentation
12:00 ETRO, VIA VALENZA, 2
14:00 PRADA, VIA LORENZINI, 14
14:00/18:00 TAGLIATORE, C.SO ITALIA, 1 – Presentation
14:00/19:00 MISSONI, VIA SOLFERINO, 9 – Presentation
15:00/18:00 CANALI, VIA T. DA CAZZANIGA ANG. C.SO GARIBALDI, 89/A – Presentation
16:00 ANDERSSON BELL, VIA SAN PAOLO, 10
17:00/19:00 TOD'S, VIA MOZART, 12 – Presentation
17:00/20:30 VALSTAR, VIA MARINA, 10 – Presentation
17:00/21:00 MAISON LAPONTE, VIA G. AURISPA, 7 – Presentation
18:00 CHARLES JEFFREY LOVERBOY, VIA TORTONA, 27
19:00 JW ANDERSON, VIA TORTONA, 58
20:30 44 LABEL GROUP, VIA COLLEONI, GATE 12
Monday 19 June
09:00/13:00 ASPESI, C.SO VENEZIA, 14 – Presentation
09:30/13:00 LESSICO FAMILIARE, VIA NINO OXILIA, 10 – Presentation
10:00/20:00 BOGLIOLI, L.GO A. GHIRINGHELLI, 1 – Presentation
10:00 DHRUV KAPOOR, VIA G. SACCHI, 5
11:00 GIORGIO ARMANI, VIA BORGONUOVO, 21
12:00 GIORGIO ARMANI, VIA BORGONUOVO, 21
12:00/15:00 KB HONG, PIAZZA DEL SEMPIONE, 1 – Presentation
14:00 ZEGNA, PIAZZA SAN FEDELE
15:00 CNMI SUSTAINABLE FASHION AWARDS 2023 PRESS CONFERENCE
Tuesday 20 June
10:00 MTL STUDIO – Digital
10:30 CARNET-ARCHIVE – Digital
11:00 GAMS NOTE – Digital
11:30 UNI FORM – Digital
12:00 MARAGNO – Digital