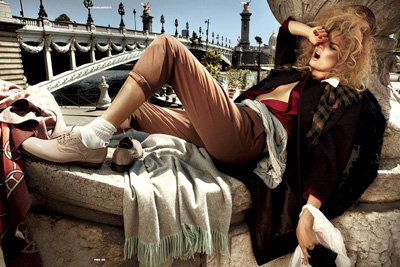 Magazine: Antidote
Issue: The Shoe Isse
Photography by Giampaolo Sgura
Creative Director: Yann Weber
Stylist: Belén Casadevall
Model: Magdalena Frackowiak |DNA, Storm, Elite|
Hair Stylist: Tomohiro Ohashi
Make-Up Artist: Adrien Pinault
Manicurist: Elsa Durrens
Website: www.magazineantidote.com
Italian fashion photographer Giampaolo Sgura teams up with Antidote for yet another outstanding story lensed for magazine's just released shoe issue. With the help of magazine's Yann Webber top model Magdalena Frackowiak takes one of her best editorial roles to date – she becomes a very fashionable but homeless Parisienne owning some of the most coveted brogues in town.
Order the new issue of Antidote via magazine's official web page.