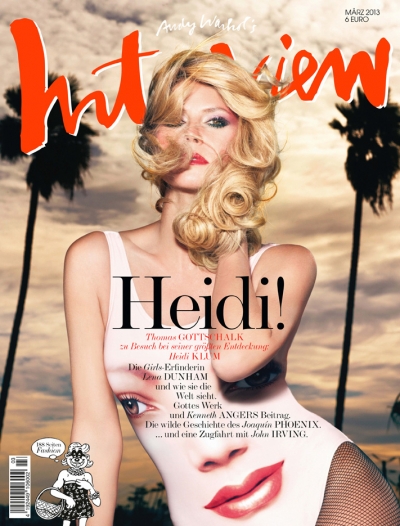 Magazine: Interview Germany
Issue: March 2013
Cover Model: Heidi Klum |IMG Models|
Photographer: Rankin
Website: www.interview.de
Supermodel and Project Runway judge Heidi Klum becomes the new covergirl of German Interview with a shoot by the prolific Rankin. On the pages of new Interview Klum talks with German TV legend Thomas Gottschalk who discovered her on 29th April 1992 as part of the Late Night Show of when he was looking for Germany's First Top Model among 25,000 contestants. The two reunite again after 20 years.
"With 'Project Runway', I present designers that are incredibly hungry. They always give their all. But when it comes to the girls in my German show, I sometimes have to literally kick their asses for them to understand what it's all about. And they expect some kind of dream world from TV that just doesn't exist." – Heidi for Interview
For a better look of the cover and quotes from Heidi's feature continue after the jump: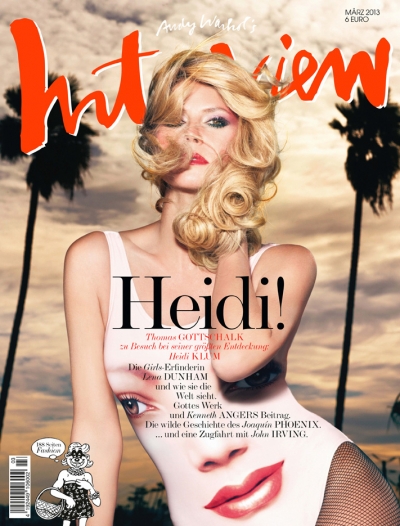 About her work ethic: "I have an immense drive and I don't miss a single thing when I'm on set. I'm a control freak – one hundred percent."
About journalists: "Unfortunately, most journalists don't care for facts. They have their minds set on a story without even having met you." "I feel the pushback is getting stronger, especially in Germany. Many years ago, I could do no wrong, but times have changed since then."
About the US: "My face and my body have turned into a trademark. I can sense that my scope of duties is slowly transforming itself. I'm very happy that America has welcomed me with open arms. My farewell greeting 'Auf Wiedersehen' has become cult over here."