In this month's issue we are celebrating the 10 years of DESIGN SCENE, while our magazine is barely over a year old our web page holds a decade under it's belt. In that time in a twist of faith we went from a string of binary codes to embracing paper and back. The ten year anniversary of Design SCENE also means a new chapter for our print magazine, coming back after a short break we are truly celebrating the season with a nod to the summer and one of Italy's most creative collections, the Fendi SS17. I went to Milan to capture the story together with our Milan Fashion Editor Emily Lee and the city's very own rock star photographer Marco Falcetta. While our cover girl, the gorgeous Aneta Manka is a true definition of a rising star, cast from MONSTER Model Management she started her Milanese adventure with our cover shoot. Aneta truly pictures the youthful yet chic inspiration Karl Lagerfeld and Silvia Venturini Fendi had in mind while design the latest collection, worn throughout our cover editorial.
GET YOUR COPY IN PRINT $21.90 AND DIGITAL $3.90
A similarly playful relationship between fashion, design and art has always been at the heart of DESIGN SCENE. The new issue features true creative's of contemporary scene, raging from illustration, painting and sculpture to architecture. First one in the line is the prolific Ksenija Djordjevic, one of South Europe's most promising new forces in Architecture, whose self founded architecture practice is already taking projects on an international scale. Followed by a much talked about Milan based creative director Sav Liotta's sit down with Italy's most famous Pop Art master, artist Michelangelo Prencipe. After Italy we head to the west coast, where skater turned artist Danny Minnick shares with us his creative passion, while on the other side of the Atlantic the unstoppable Song Dong explains how he merged Europe and Asia. Dong's words are as poetic as his showstopping art pieces.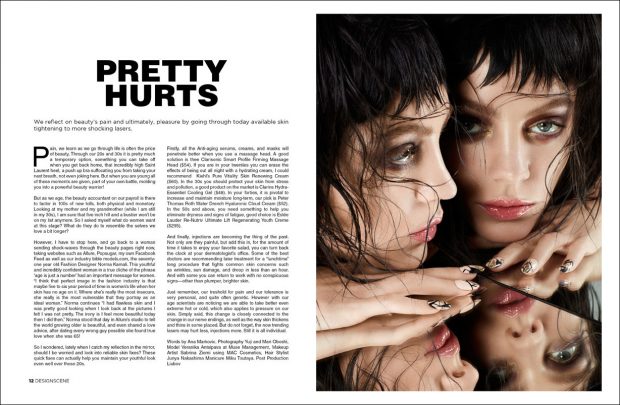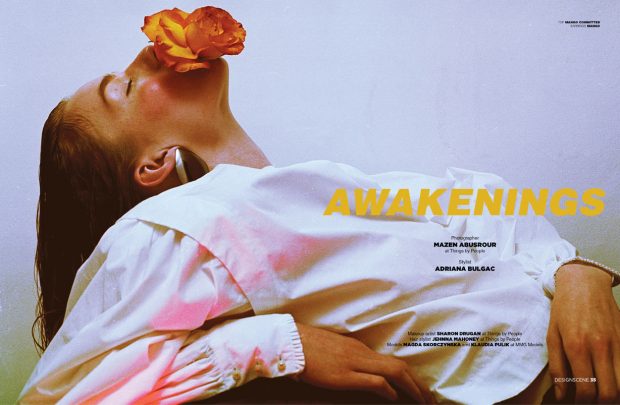 When it comes to fashion pages, our Fashion Features editor Katarina Djoric worked closely with photographer JD Barnes to bring you the Summer Vibes in our opening style pages. JD's colourful story follows PRETTY HURTS, the opening article by our Deputy Editor Ana Markovic who analyzed society's obsession with beauty and looking youthful. Staying in the beauty department is the wonderfully romantic story by our regular contributor Mazen Abusrour who shot in analog for us the stunning AWAKENING fashion story. Furthermore, trend setting pieces were on the mind of our Milan Fashion Editor Emily Lee who put together a dynamic styling for an upbeat black and white series by photographer Matteo Bertolio.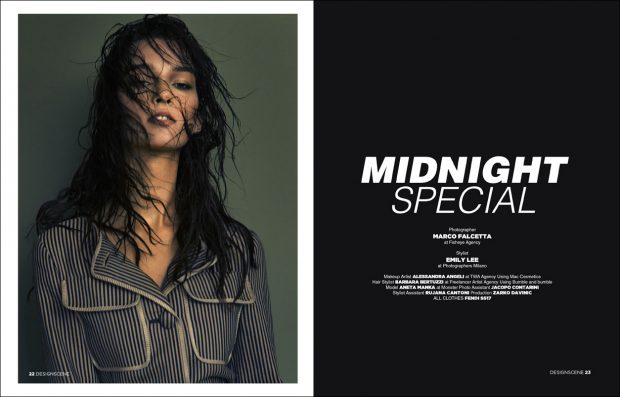 The art of fashion is, as ever, the motivating lane to all that we create together at DESIGN SCENE and so is the game for the latest addition to our contributors list, the talented Arale Reartes who photographed the striking THE DEVIL IS IN THE DETAIL story in NYC. Not far from the engaging and mostly artful vibe were Likacher Rostislav who celebrated the colour red for our London shoot, but also one of our regular Alejandro Cabezut who impresses yet again with his collaboration with stylist Lex Robinson captured in New York.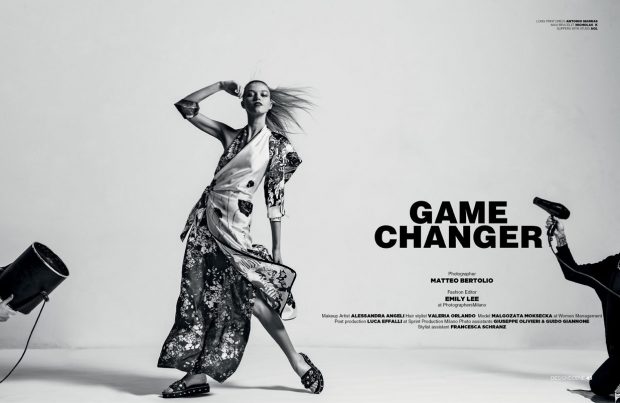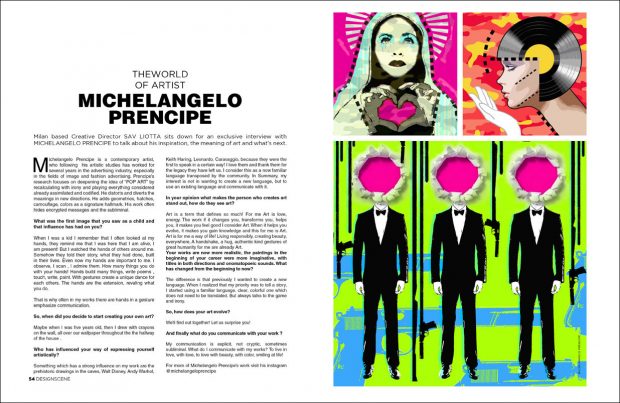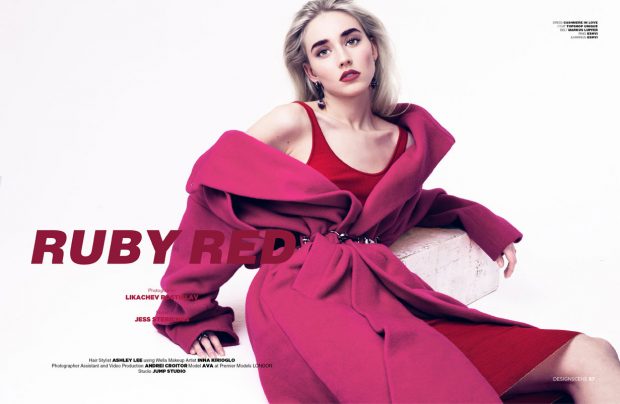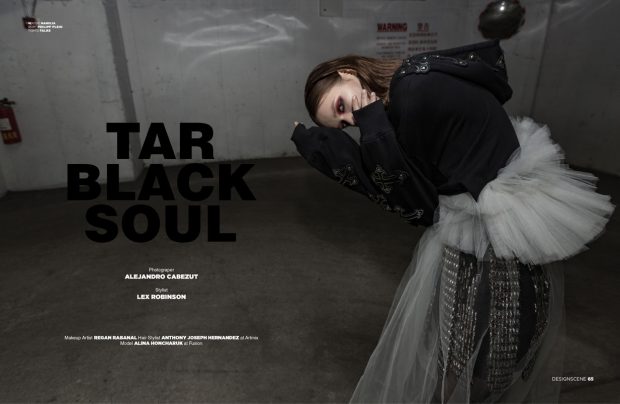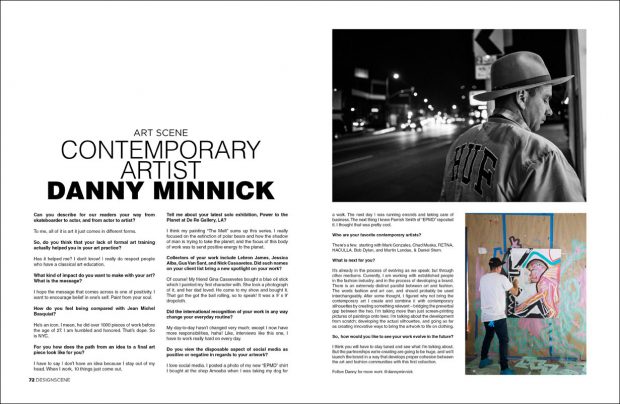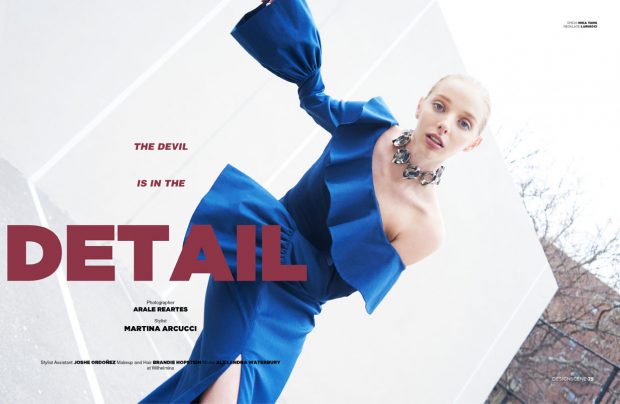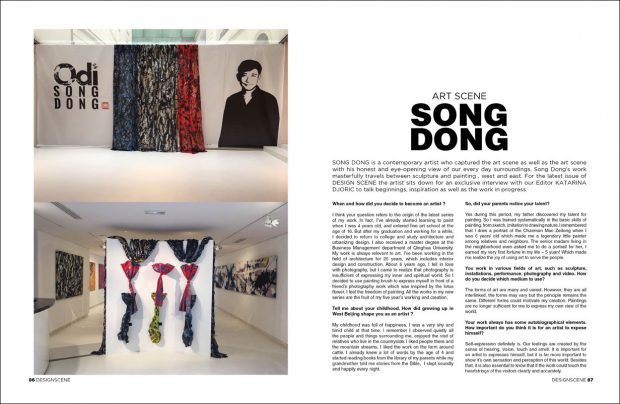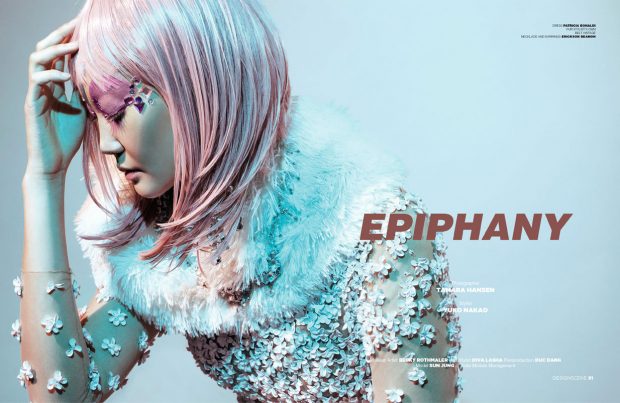 As for me… well, I can say that I kept a job for a decade or simply say that I am old enough to have luck to do the job I truly love for all these years. These anniversaries are a moment to count our blessings, but in the end a decade seems to be just another start line. A simple and as complicated as that.
Words by DESIGN SCENE Editor In Chief Zarko Davinic
Contributing Photographers Yuji and Mari Oboshi, JD Barnes, Marco Falcetta, Mazen Abusrour, Matteo Bertolio, Likachev Rostislav, Alejandro Cabezut, Arale Reartes, Tamara Hansen
Contributing Stylists: Brendon Alexander, Adriana Bulgac, Jess Stebbings, Lex Robinson, Martina Arcucci, Yuko Nakao
GET YOUR COPY IN PRINT $21.90 AND DIGITAL $3.90