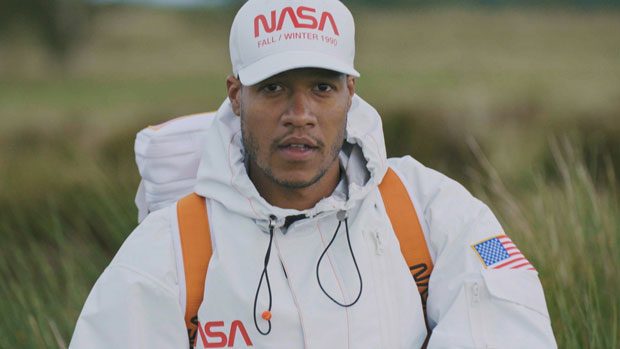 American designer Heron Preston has collaborated with David Laven on a short film entitled Above the Clouds, documenting the process behind his third womenswear and menswear collection. Celebrating NASA's 60th anniversary this year, the film features the designer sending his collection 32 miles (50 km) above the earth's surface.
Directed by Heron Preston and David Laven (@thatssolaven), 'Above the Clouds' provides an intimate look at the execution of Preston's new collection in celebration of NASA. Shot over the course of six months, the film culminates with Preston literally launching the collection's hero look 32 miles (50 km) up into the Earth's stratosphere. The Fall/Winter 2018 collection drops today, July 27. Across 31 pieces, Preston incorporates NASA's authentic 1976 logo, consisting of the word NASA in a unique logotype nicknamed the 'Worm.' Inspired by the outer layer of NASA's spacesuits, Preston interprets the iconic uniform in the form of a 3M nylon space jacket, a silver denim logo jacket, and a multifunctional convertible backpack which can also be worn as a fanny pack or tote bag. The collection is branded with "fall/winter 1990" as an homage to the Worm. – from Heron Preston
The collection is available through Heron Preston's online store and at leading retailers worldwide.
Discover the collection: HERON PRESTON Fall Winter 2018.19
See more after the jump: