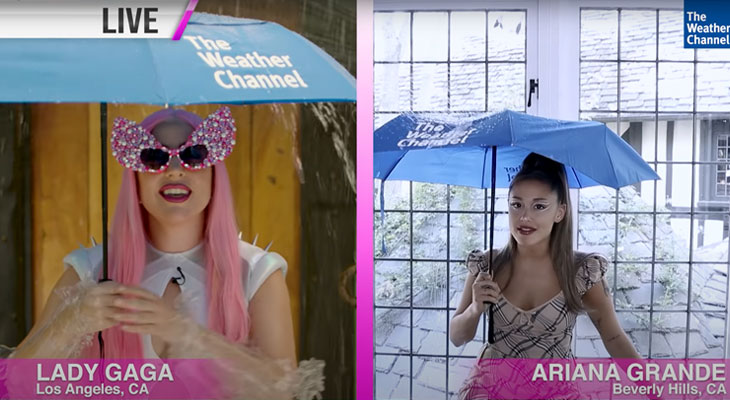 To celebrate the release of their new single Rain On Me, Lady Gaga and Ariana Grande have taken up meteorology in their next joint venture as Chromatica weather girls. Fresh off the success of their highly anticipated single, the duo virtually teamed up for a funny video on Tuesday and it looks like there's a 100 percent chance of rain.
"Are we thirsty or what @arianagrande?? BRING ON THE RAIN!" – said Lady Gaga via her official Instagram.
The one-minute video finds the pop stars looking glamorous as ever while standing under umbrellas in the pouring rain made by their assistants holding the hoses in hands.
It was beautiful just yesterday but, oh wow, how things have changed," – said Gaga, decked in a white cut-out bodysuit with long pink hair and jewel-encrusted sunglasses.
"Rain on me, tsunami! Water like misery but the people are still going," – added Ariana, sitting by a window as rain floods the inside of her home.
The video comes just days ahead of Gaga's highly anticipated album release on Friday, May 29.
Following the release of the single, the fans made #rainonme hashtag to show their choreographs and makeups inspired by the video. See how to recreate Gaga's makeup below, posted by her makeup artist on her Instagram: