Supermodel Stephanie Seymour stars in in the cover story of WSJ. Magazine's Spring 2023 Women's Fashion edition lensed by photographer Dan Jackson. In charge of styling was Clare Richardson, with set design from Gerard Santos, casting direction by Piergiorgio Del Moro, and production by Honor Hellon Production. Beauty is work of hair stylist Didier Malige, makeup artist Romy Soleimani, and manicurist Honey. In her interview with WSJ. Magazine, Stephanie talks about the death of her son Harry, her four-decade career, being a grandmother, and much more.
On Harry's love of fashion:
"It was the cutest thing when they were in elementary school," she says, telling a story about how Harry liked to volunteer to lay out outfits for her to wear to parent-teacher conferences. "I would say, 'OK, you can choose my outfit,' and then he would go through everything, the vintage, the everything, lay it all on the floor." Once, he picked out a baby-blue vintage Christian Dior dress and matching baby-blue Manolo Blahnik pumps. "I'd say, 'Harry, I can't wear a vintage couture dress to a parent-teacher conference,' " Seymour recalls, "and he'd say, 'Why not?' "
On the suit she wears during the shoot (one of Harry's favorites):
"It's a suit that I keep hanging in my dressing room, which is this big room where I keep all my stuff. I do my makeup there. I live in that room," she says. "I looked at that suit one night and I said, 'I'm going to put it on.' It fit me."
"It still feels so good to put his clothes on," Seymour says. "I packed up these huge trunks with all his things, and I have this idea that I want to keep photographing his clothes because I think he would love it." The brothers often socialized with top models who could have been younger versions of their mother. "He's got this whole flock of women that would love to wear his clothes and be photographed," she says. "That's something I'm going to enjoy doing."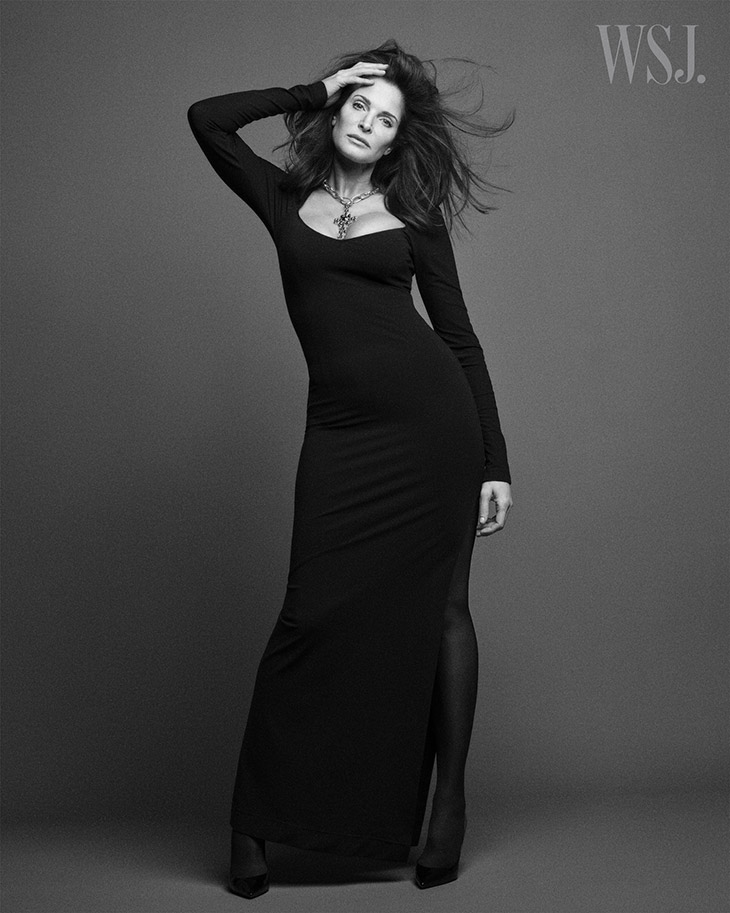 Seymour on how her grandchildren have helped her heal:
"I try to just be present. For me with holidays, and I'm sure a lot of other people can relate, it's difficult now because I'm always thinking of what's missing," she says. "But I'm really lucky. [We] have a lot of grandchildren. And there's nothing that's helped me get through all of this more than my grandchildren. And a lot of people say, 'Well, they're not your grandchildren. They're Peter's grandchildren.' But they don't feel that way, and neither do I. Nothing has given me more comfort than those kids calling me Grandma Stephanie."
Seymour's eldest son, Dylan, had his first son in October. "He had a little boy," Seymour says. "And they named him Harry."
Naomi Campbell (Campbell is godmother to Seymour's children with Peter Brandt) on Harry:
"I remember when he was 12, I'd take him to meetings and grown adults could not believe his mind and maturity," Campbell says of Harry. "Steven Meisel loved him. Pat [McGrath] loved him. Everyone could see how special he was."
Campbell on Seymour:
"We met in London on a Warehouse [shoot] with Christy [Turlington], and we've been glued together since that day in the summer of 1986," says Campbell, who was the maid of honor at Seymour and Brant's wedding and is godmother to all of her children with Brant. "She's been the same for all the decades that I've known her. She's smart, and when she's passionate, she shows up."
Seymour on her beginnings:
"I wanted to be a model since I was probably 5 years old."
Seymour on Richard Avedon:
"I was nervous every single day I worked with Dick," she says. "It was about creating a character so he could get what he wanted. I was relieved for this short period of time I didn't have to be myself, and that made it so much easier. I couldn't do those things, but this other girl could."
Seymour on Alaïa designing her wedding dress:
"Should I say what he did to me at my wedding?" she asks. "I can do that now." The day before her wedding outside of Paris in 1995, Seymour was booked to model in Chanel's couture show, designed by the late Karl Lagerfeld. "That's a show where you're fitted in couture. Every little part of that dress is stitched on your body," she says. "I went to Alaïa's studio, and I told him I can't come during the day tomorrow [for the final wedding dress fitting]. And he just looked at me and said, 'I don't know if your dress will be ready' in French. And I was like, 'Really?' "
She realized Alaïa wanted her to cancel Lagerfeld. "He didn't make me [cancel]; he didn't have to say anything to me. I knew what he wanted," she says. "It's about your allegiance to someone you love."
No longer booked with Lagerfeld, she showed up to Alaïa's studio early to finish her dress. "He kept me on ice until about, I don't know, 11 at night. And then he was ready to start working. But it was the greatest experience, as far as a fashion experience, I've had in my entire life. That will never change."
Seymour on her massive vintage couture collection:
"I started collecting when it wasn't worth very much, so it's huge," she says of the collection. One of her favorite pieces is a Christian Dior dress from the 1950s, which she wore to a Met Gala, honoring the house of Dior, in 1996. "I was the only person wearing a real Dior dress," she says with a smile.
Does she have a favorite design from her collection? "I have too many dresses to even answer this question," she says. But, in an emergency, which one would she take? "Whatever I could get my hands on," she says. "I wouldn't be too choosy, because my collection is really great."
Photography © Dan Jackson for WSJ. Magazine. This article is featured in WSJ. Magazine's Spring 2023 Women's Fashion issue, available Saturday, February 11th.