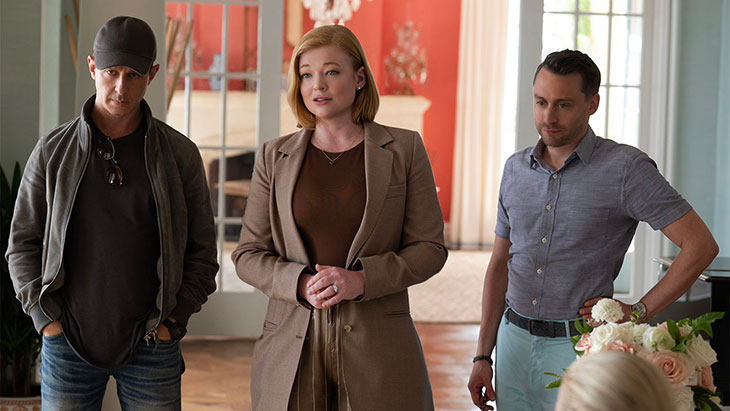 A loud appearance has always been associated with wealth throughout history. At first, it was all about the furs and jewelry you were wearing, and in more recent times, the logo on your purse became a symbol of your status. Today, logomania and maximalism may still find buyers, but money seems to have opted for a more quiet approach. There is a growing trend for understated luxury in well-established luxury markets and the term is having a momentum on social media.
"Quiet luxury" refers to understated clothing constructed using the finest quality fabrics and techniques – a new form of minimalism that focuses on investment pieces and mindful shopping habits. Although it reached its peak in the wake of the pandemic, it's roots trace all the way back to the American industrialists of the Gilded Age of the 19th century and France in the 1700s.
We earn a commission when you follow the link to make a purchase. Click here to learn more about how we make money.
The quiet luxury isn't a trend, but one thing is for sure: it's trending thanks to the popular TV show Succession, which provides a glimpse into the lives of America's obscenely rich. The first episode of the show instantly caused a spike in interest in "quiet luxury," "stealth wealth," and "old money style," which increased by around 900%, as measured by Google search. The show has sparked a renewed interest in the way that the ultra-wealthy dress as well as the concept of "quiet luxury," which has led to an increase in online searches.
Shop "QUIET LUXURY" at SSENSE:
As part of her preparations for the show, Succession costume designer Michelle Matland spent a lot of time studying people going about their daily lives on the Wall Street. She took note of everyone, from those arriving in town cars to those getting on the metro and she said it was crystal clear to her who the bottom echelons were in a corporation and who the corporate heads were, just by the way they dress. She also did a significant amount of research on the great corporate families in the United States, like the Murdochs. "You know, their watch probably cost $45,000 just to swim in. It isn't for anyone else, or anyone else's knowledge that they do it. They simply do it because that's what they know. They know nothing else. But they are not posturing their money, as it were." – said the Succession costume designer Michelle Matland for Vogue.
Some of the fashion trends that have been popularized by the show include invisible branding, fitted tailoring, minimalistic shapes, and neutral color palette. The trend comes and goes and retailers are paying a particular attention, as are an increasing number of designers who are aiming to attract not only the incredibly rich and powerful people, but also those who strive to be. For some brands this is nothing new. For example, Loro Piana, Brunello Cucinelli and The Row (the holy trinity of quiet luxury), are doing it for years. They don't scream 'wealth' through logos and crazy shapes, but rather whisper the extremely outsized price tags through very subtle designs, minimalistic shapes and rare materials. For instance, Loro Piana is known for using the world's rarest raw materials, including, the extremely expensive vicuña wool, while one of the pioneers of the casual tailoring Brunello Cucinelli is sourcing his cashmere in the Mongolian mountains. Max Mara and Jil Sander could also fit the "quiet luxury" codes.
Shop "QUIET LUXURY" at SSENSE:
Knowing about and possessing a coded luxury brand gives you access to a certain kind of exclusive club, which is a large part of the attraction associated with these kinds of brands. The term also became extremely popular and is currently trending on social media platforms like TikTok. Fashion content creator Charles Gross is one of a few people who first talked about quiet luxury on social media, and people are constantly coming back to him for the inside information. "The luxury market used to be so padded in this bubble, not only by the brands themselves, but also from buyers. They wanted to prevent certain people from coming in, and make information about the luxury market incredibly limited so that, unless you were in it, you didn't know anything about it, and information wasn't readily available."  – Gross said for W Magazine. He also compared luxury with expensive art "If you go to a museum and look at a painting that's wildly expensive or not even available for purchase, you can still find information on it, no one is gatekeeping that painting from anybody. But, in the fashion world, they're creating art as well, while saying to people, 'Well, you can't know about this because you can't afford it.'"
Conspicuous fashion, however, continues to thrive even as the trend toward understatement rises. The SS23 runway collections featured a lot of vivid, eye-catching hues and intricate patterns. The labels also went all in on logo usage, continuing the logomania frenzy. However, there's a plethora of solutions and even logo-obsessed firms are getting in on the action providing options for consumers who are more inclined toward a coded aesthetic.
What can we actually learn from the "quiet luxury trend, even though the most of us can't afford it?  In order to save money and time, it's best to buy quality basics and buy less but smarter.