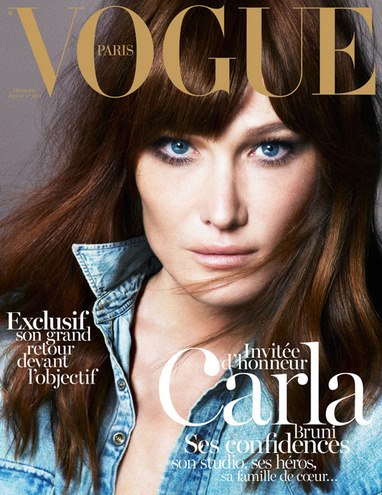 Carla Bruni's return to modeling with Vogue Paris December 2012 cover captured by the prolific Mert & Marcus.
Carla Bruni's return to modeling was marked with a spectacular splash on the cover of Vogue Paris for their December 2012 issue. The decision to feature Bruni, shot by the acclaimed photography duo Mert Alas and Marcus Piggott, known as Mert & Marcus, was both a nostalgic nod to her past and a celebration of her enduring relevance.
This cover was more than just a return; it was a redefinition of Bruni's persona. Once a leading figure in the world of fashion during the 90s, she had evolved to become a singer and the First Lady of France. This cover seemed to signify a full-circle moment, where she was reembracing her fashion roots while also showcasing her multifaceted identity.
Mert & Marcus were the ideal choice to capture this moment. Known for their ability to meld fantasy with stark reality, they created images that were both ethereal and grounded. Their photography managed to accentuate Bruni's timeless beauty while adding a contemporary edge that spoke to the modern reader. The pictures were enchanting, with a magnetic quality that drew the eye to Bruni's calm, confident poise.
The collaboration between Bruni and Mert & Marcus wasn't just a fusion of great talents; it was an artistic statement. Here was a woman who had stood at the pinnacle of the modeling world, moved on to music and politics, and was now returning to fashion without missing a beat. The images conveyed a sense of continuity, yet they also felt fresh and invigorating, capturing the eternal allure that Bruni has maintained throughout her varied career.
The cover's success also reflects the evolving nature of the fashion industry. In embracing Bruni, a woman who represents grace, wisdom, and experience, Vogue Paris showcased a more inclusive and nuanced understanding of beauty. It was a celebration of a woman's journey, acknowledging that style and elegance don't fade but rather evolve and mature.
In conclusion, Carla Bruni's return to modeling with the Vogue Paris December 2012 cover, captured by Mert & Marcus, is emblematic of her enduring appeal and the progressive spirit of modern fashion. It was a convergence of past and present, a beautiful tribute to her legacy, and a dazzling preview of what might still lie ahead. Her appearance on this cover was more than a comeback; it was a declaration that true style transcends time and that icons like Bruni continue to shape and inspire the world of fashion.
Magazine: Vogue Paris
Issue: December 2012 January 2013
Cover Model: Carla Bruni Sarkozy |Marilyn Agency|
Hair: Paul Hanlon
Makeup: Lucia Pieroni
Stylist: Emmanuelle Alt
Photographer: Mert Alas and Marcus Piggott
Website: www.vogue.fr