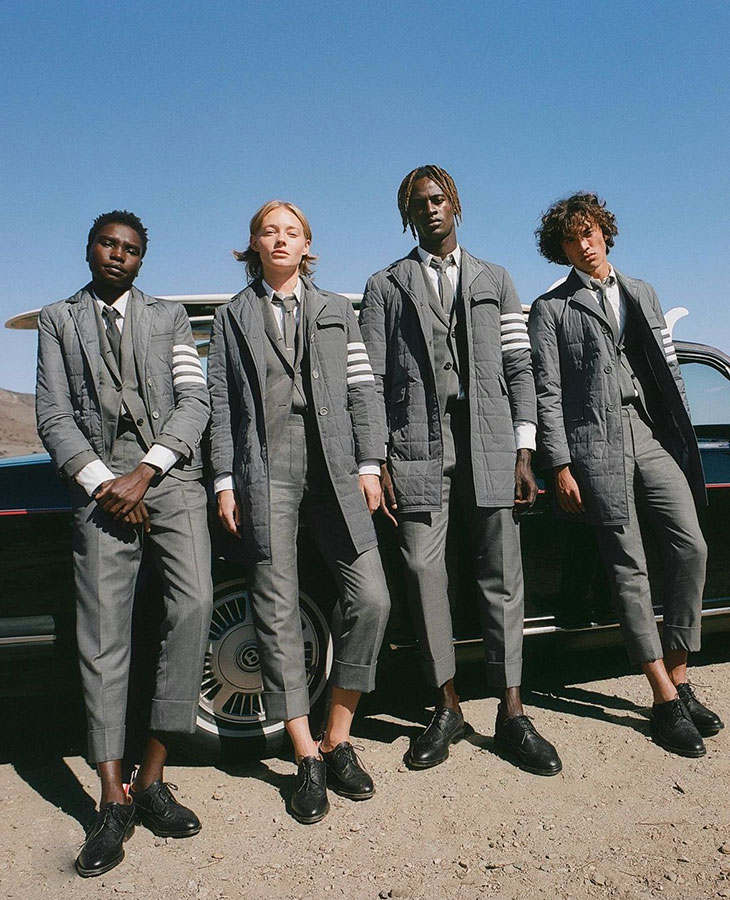 As we enter 2023, a new lawsuit between fashion brands is coming to the spotlight. After Cartier and Tiffany & Co.'s clash and Hermès v. MetaBirkins battle, German sporswear company adidas is suing an American fashion brand Thom Browne over its signature three-stripe logo.
The lawsuit is filed in 2021, when adidas claimed a trademark infringement against the American label, stating the similarity between its three-stripe branding and the parallel stripes (often four) on Thom Browne garments. The lawsuit states that Thom Browne uses the three and four stripes in ways that are likely to deceive, confuse, and mislead actual and prospective purchasers of adidas's merchandise. That time, in focus was Browne's collaboration with FC Barcelona, where the brands has designed th team's off-field tailored and formalwear uniforms, while the sportsclub biggest star Lionel Messi was adidas ambassador.
Last year, Thom Browne spokesperson said for WWD that Adidas gave its consent to Thom Browne over 10 years ago and in fact suggested that Thom add an additional stripe to reach four on the sleeves or the pants and that this would be OK by Adidas and it's now chainging its mind when Thom Browne gained a big comercial sucess.
A legal battle around three stripes started to heat up when New York judge ordered that the case goes to trial. Thom Browne has hit back with a defense claiming that the brand's four-stripe pattern doesn't infringe on adidas' famous Three Stripes and there's no actual confusion between the two emblems. The defense also says that the brands operate in "entirely separate markets, at vastly different price points, and are not competitors. Additionally, Thom Browne has filed a counterclaim aimed at canceling adidas' three-stripe trademark registration.
Yesterday, the designer showed up at Manhattan Federal Court wearing the signature head-to-toe Thom Browne suit – shrunken jacket and tie, knit cardigan, leather brogues, and tailored shorts paired with four-striped athletic socks.
Meanwhile, adidas announced it will continue to sell Ye's shoe designs without the Yeezy name, after the terimination of the partnership with the rapper.